The contrast between Serta and Tempur-Pedic is striking, for the lack of a better word. Serta dates back more than eighty years, whereas Tempur-Pedic emerged quite recently. They have been around since 1992 and didn't go public with their current name until 2003. It's time to put them against each other in this Serta vs. Tempur-Pedic review.
Just like every other pair of brands compared earlier, these two brands have their own mattress-constructing technologies. Serta, for that matter, has been compared twice by this point. Nevertheless, Tempur-Pedic is far from lacking. Just like Serta, they firmly stand on their own. Young or not, there are some advantages Tempur-Pedic has over Serta.
And now, to the comparison.
| | | |
| --- | --- | --- |
|   | Serta | Tempur-Pedic |
| Unique technologies | Pillo-Fill, FireBlocker Fiber, Serta PillowSoft Foam | TEMPUR Foam, TEMPUR-Breeze® Cooling, PureCool™ Comfort, TEMPUR® material |
| Approved by National Sleep Foundation | Yes | |
| Mostly Produces | Hybrid Memory Foam/Innerspring | Memory foam |
| Price | High | High |
| Edge support system | Yes | No |
| Warranty | 20 years | 10 years |
| Extras | – | 90 nights trial |
Let's start with Serta. They have quite a lot to offer. One should expect that, really, after all, after being around for so many years a mattress company is guaranteed to develop something that would give them an edge over their competitors, otherwise they simply wouldn't be able to keep up.
So what is that that they offer to us, the desperate sleepers? First of all, the number of technologies they use is astounding. You can have a look at the Serta glossary if you follow this link. There, you will find a very extensive list of terms, used by Serta. Those terms often denote their special technologies.

Anyway, today we will only talk about several of them the most prominent and important ones. Those are FireBlocker Fiber, Pillo-Fill, and Serta PillowSoft Foam. The former should be self-explanatory. Structurally, it is a naturally fire-resistant fiber. It serves as a fire barrier for the Serta mattresses. Since there's no need for flame retardants to make their mattress fire-resistant, the mattresses are also safer for your health.
The Pillo-Fill might seem apparent as well, but it is not only used to fill pillows. In fact, it is another brand of Serta fiber. It is breathable and its primary function is temperature regulation. With this fiber, your mattress will always be cold in summer and warm in winter. It is not used for pillows exclusively, this fiber is generally utilized as a mattress filling.
The Serta® PillowSoft Foam, on the other hand, while used as filling as well, is just a very soft foam.
Of course, technologies are not the only thing that matters when it comes to mattresses. It might be interesting to you to learn that Serta® is approved by the National Sleep Foundation. It doesn't, however, mean that Tempur-Pedic is in any way inferior.
The other very important detail concerning any brand is what kind of products they make. As it goes, Serta mainly makes hybrid mattresses, usually innerspring and memory foam. Such mattresses have their own advantages and disadvantages, you simply need to know what they are. If you want to learn more about hybrid mattresses, feel free to follow this link.
Anyway, time to tell something about Tempur-Pedic. They generally only make plain memory foam mattresses. But don't let my wording fool you! The only "plain" thing about them is their composition. As in, they only constitute memory foam, not latex or coils. Nevertheless, even the non-hybrid mattresses from Tempur-Pedic are rather sophisticated. The mattresses made by these two brands are equally pricey, although for entirely different reasons. Still, among the more expensive ones it is not impossible to find more or less affordable mattresses.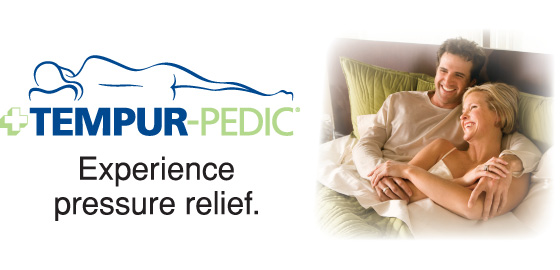 Serta, unlike many other mattress companies that produce innerspring mattresses, makes theirs with reinforced edges. Edge support, or, to be more precise, the lack of it, is rather common of an issue. Not exactly a serious one, but still it may be quite annoying.
Tempur-Pedic is different. Since they don't make innerspring mattresses, this issue, unique to mattresses with individually wrapped coils, is simply inapplicable.
Serta offers a long enough warranty. It is good for twenty years. However, one should remember that, as time passes, the chances of warranty still being applicable, drop. Because accidents to tend to happen. Because of that, the 10 years edge Serta has over Tempur-Pedic doesn't mean all that much.
Besides, Tempur-Pedic offers a 90 nights tryout! That's rather generous if you ask me.
I've said everything there was to know about those two mattress brands. I don't know if that's enough for you. If it is, I'm happy to have done a good job.
Anyway, if you do want to learn more about each of these brands, I invite you to do just that. Feel free to follow this link to find out more about Serta. If you would rather learn more about Tempur-Pedic at the moment, you can follow this link instead.

Now that you know how these two brands are different from each other, I'm sure you can make the choice that would be the best specifically for you. I hope this comparison will be helpful to you and you will find yourself a mattress that meets all of your requirements.