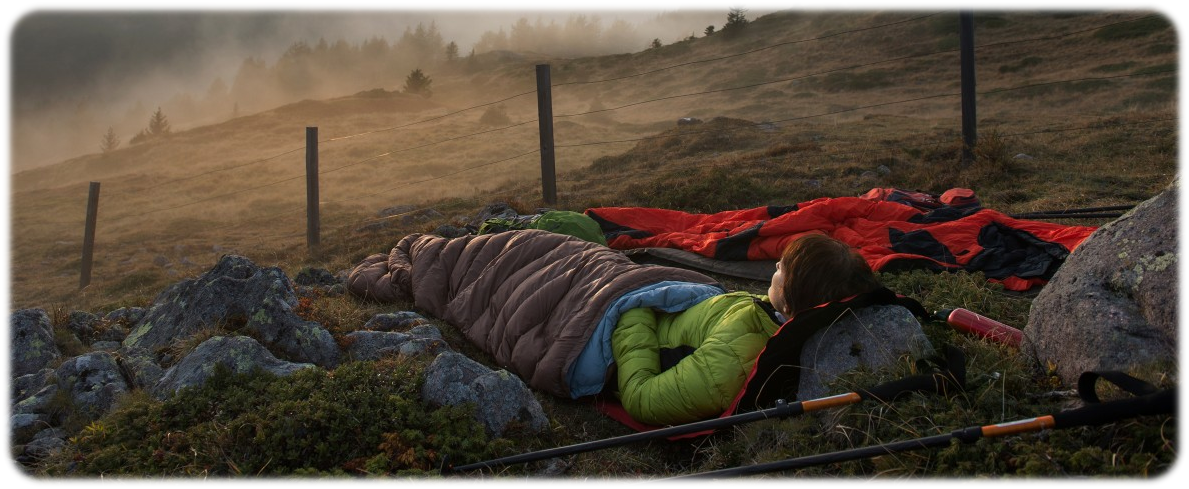 It's been a while since I wrote a review. I believe it's time to rectify that.
New mattresses appear all the time. I have the most important ones covered but then new ones emerge, and they are too good to just dismiss them. Nevertheless, I'm not going to talk about mattresses this time. Today's subject will be sleeping bags. You will definitely need the best sleeping bag to avoid catching a cold after sleeping on the ground.
The reason I'm suddenly covering them? Well, I've done a little research and found out that some people criticize my blog because of how I recommend mattresses for camping but not sleeping bags, which are far better suited for camping than mattresses, any mattresses. To my shame, I have to admit they were right to criticize me.
And therefore, it's time to research sleeping bags and present you the best of them.
What Is a Sleeping Bag?
Perhaps, you know what it is. Most people do, I hope they do, at least. However, most people have also never seen a sleeping bag up close.
The name is rather descriptive. It is, indeed, a bag for sleeping.  However, it is not conclusive enough. Basically, a sleeping bag is a bedding for sleeping outdoors. Nothing more and nothing less. Unlike any type of mattress, a sleeping bag is never used for sleeping inside. It can be used in a tent, it can be used for sleeping outside but never inside. Why? Because, unlike typical beddings, a sleeping bag is designed primarily for warmth.
Why not Use a Sleeping Bag for Sleeping Inside?

It is possible technically, yes, but unless you're really freezing in your home, it's better not to. A sleeping bag is comfortable but not comfortable enough to compete with a mattress obtained for a comparable price.
The key properties of a sleeping bag are not the same you expect to see in a mattress. You wouldn't mind to find them there but you wouldn't need them. On the other hand, every quailty a mattress is supposed to possess may not be found in a sleeping bag. While these products can be used interchangeably, it is never a good idea to do that.
Temperature Rating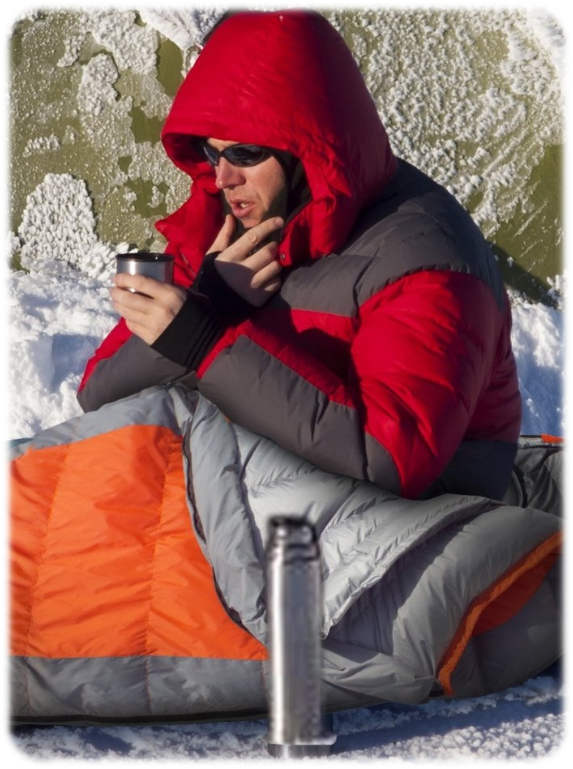 It is not easy to just say how good a sleeping bag is. There are too many factors to consider, and some of them may outweigh the others. Moreover, they can be entirely different factors, depending on who exactly needs a sleeping bag—and for what.
Temperature is one of the most important things to consider. There are exceptions, of course. For instance, even the best kids' sleeping bag will simply not be designed for sleeping in cold. While such a bag may provide some insulation, the need for it is extremely limited since such bags are typically used for sleepovers.
Other sleeping bags are designed for sleeping in various areas. That's what the temperature rating is all about. Some of them should never be used in winter, others are only meant for this season.
There are three temperature limits. The standard limit is the temperature where you would feel rather comfortable. The second limit is the temperature where could still sleep soundly provided you a healthy adult male (as women would feel discomfort at his point). The final limit is the survival limit. It's dangerous to sleep in the bag if the temperature outside is below this limit. At this point, however, sleeping is still possible, but only just.
Importance of Insulation for Cold Weather
Insulation is one of the most important parts in a sleeping bag's composition. It's largely what makes it either warm or… well, less than warm.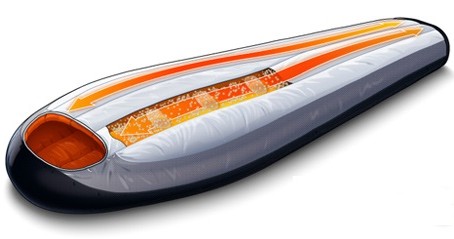 There are two main types of insulation: synthetic and feather. Synthetic sleeping bags are much less expensive, they are easy to clean and, of course, cruelty-free. Moreover, synthetic insulation is less sensitive to humid condition and still retains heat when damp.
The feather insulation is admittedly warmer but when it absorbs moisture (which is does all too easily), it becomes nigh unusable. And there's no easy way to harvest feather without animal cruelty. Feather insulated sleeping bags are often called down bags. They are rather heavy which makes them useless to some people.
Fabrics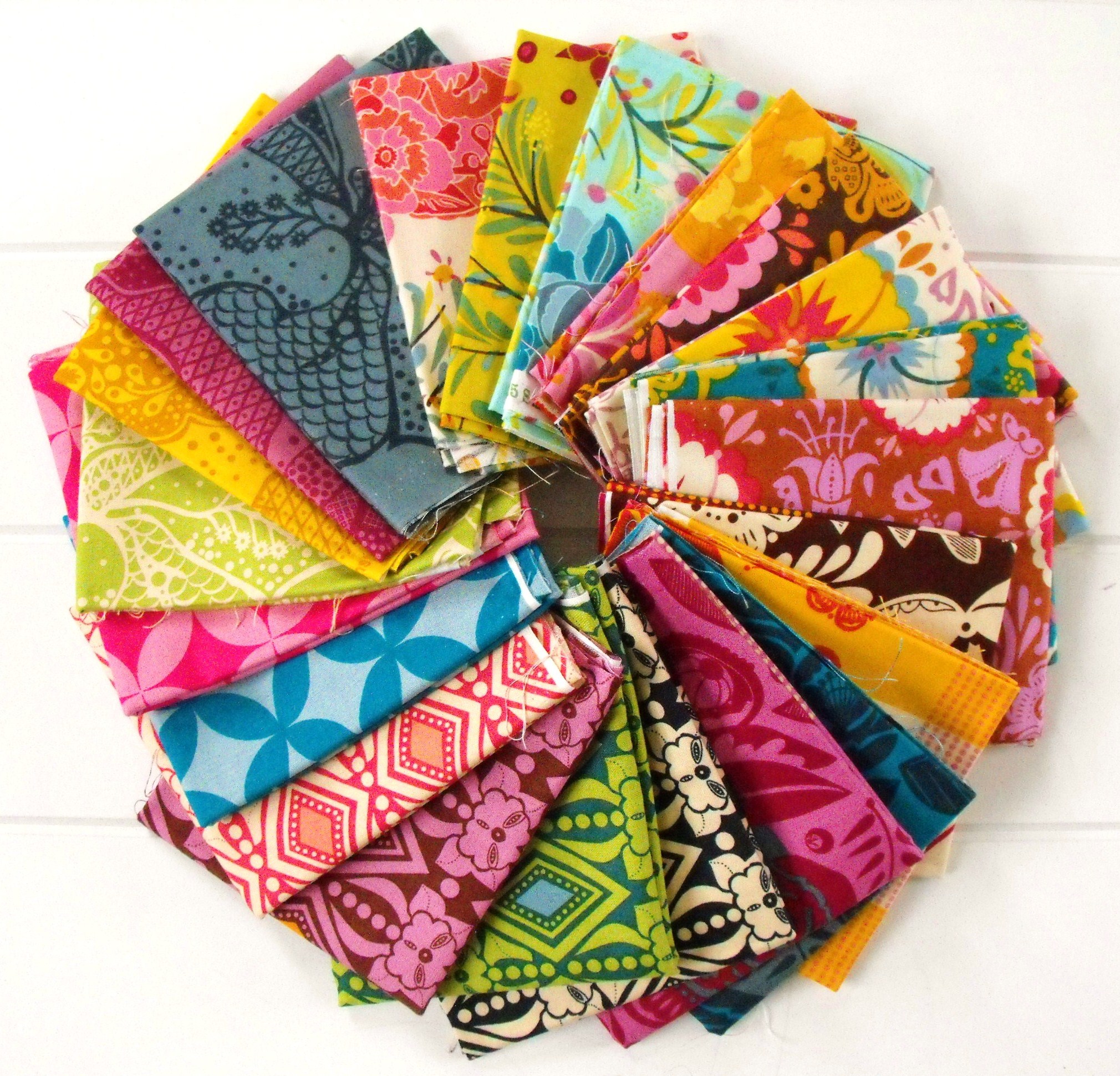 If the insulation is relatively easy to damage or too wet, it's up for the fabric to protect it, both from inside and outside. The inner layer is also used to protect your skin from irritation and facilitate heat distribution.
The face layer of a sleeping bag should be waterproof. That's not really a requirement, but using a non-waterproof sleeping bag is a pain. As such, most face fabrics are synthetic.
Most inner fabrics are either nylon or blends of cotton. The latter is used more often since cotton is a natural component and therefore preferable.
How Weight Defines What the Best Sleeping Bag for Camping Is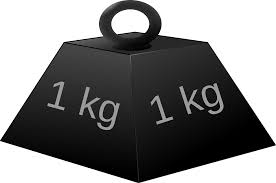 Another deciding factor is the weight of a sleeping bag.
Generally, the warmer a sleeping bag, the heavier it is. However, the weight really depends on the type of the sleeping bag, and a number of other factors.
Heavy sleeping bags are acceptable for camping when you travel by car. Hikers need lightweight sleeping bags, and mountain climbers need ultra-lightweight ones. The only way they can carry their sleeping bags is in their backpacks. The best hiking sleeping bag will always be a lightweight one. Be advised, however, ultralight sleeping bags often lack insulation, compared to most other types. They have to be very compact to remain, well, light.
Extras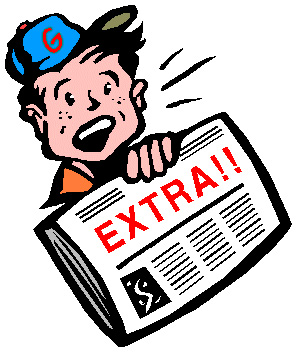 Some things are not required but are welcome. For instance, inner pockets, where people can store essentials during their sleep. These days, such essential might include cell phones, power banks, and other similar objects.
A hood is another extra, technically. Even though many sleeping bags are equipped with one, it's still considered supplementary. However, you won't see many sleeping bags without one.
A carrying bag is always a nice addition. Some sleeping bag sets do in fact include carrying bags as well. If yours comes without it, it would be a good idea to purchase one separately.
Sleeping bag liners don't come with sleeping bag most of the time, but I think they should. They are used to prevent the bag from getting stained and to make your sleep more comfortable.
How sleeping bags are categorized
One of the most important factors to consider is the shape of the bag. In the case of sleeping bags, saying that they come in all shapes in forms is not only true but also very important. It's the shape of a sleeping bag that makes it either hot or warm, either breathing or air-tight, it's the shape that affects its aesthetics. And finally, the shape of the sleeping bag that either allows or denies you mobility.
So what are those shapes?
Mummy Sleeping Bags

This is one of the most popular types of sleeping bags.
So what does a mummy-shaped sleeping bag look like? Well, it would be better to just have a look. But for those of you who can't see the pictures, here's a short description.
It is one of the most classical shapes. If you've ever seen a sleeping bag or a picture of one, this is probably this kind of a sleeping bag. Such sleeping bags are designed so that an average human could easily fit in there without giving them too much space. They are narrow at the head and at the feet, although not equally narrow, the head section is a little bit wider. The widest section is the shoulder section.
Basically, a mummy-shaped sleeping bag looks like two trapezoids put together, a very little one (comprises the head and shoulder section) and a very long one (comprises everything bar the head section).
These sleeping bags can only accommodate a single person. They never unzip all the way to the feet, which actually makes them more suitable for cold temperatures. After all, zippers are one of those things that just leak warmth. And feet should be kept warm more than anything else.
These sleeping bags can be suitable for sleeping even under extremely low temperatures. Most of the best 0 degree sleeping bags are, in fact, mummy sleeping bags.
Top 3 Best Mummy Sleeping Bags
Not planning on staying outside when it's snowing? Do you prefer nice weather, or should I say, almost nice? This OUTAD sleeping bag will be perfect for you. And, even though you might never have a need for this quality, it can still offer protection from temperatures below 32 degrees Fahrenheit (although 23 degrees is the limit).  Even if you get caught in the middle of a sudden blizzard, you will still be prepared for it.
Still, I don't really recommend using this sleeping bag in winter. The other three seasons are perfectly okay (if we're talking the Northern Hemisphere), for winter, however, it would be better to purchase a 0 degrees sleeping bag (or -18 degrees Celsius).
Lightweight, windproof and waterproof, this will be a perfect way to save money. Do note that this is a mummy-shaped bag, and, as such, it limits your movement. On the other hand, it allows your body to warm itself due to that effect.
The bag also helps to save space, something just as important for travel and hiking as the weight, perhaps even more. It also comes with a compression bag of its own. And, finally, it looks rather good.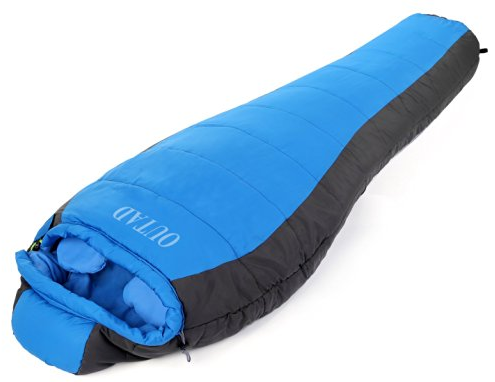 Pros:
Insulated
Waterproof
Unisex
Perfect for moderate cold
Windproof
Comes with a compression bag
Cons:
Restricts movement
Not tearproof
---
If you believe a polyester sleeping bag can't look good, it's definitely time for you to forget this conviction. It may be not the most expensive material around but it looks good, provides good insulation and, finally, is water-resistant. Now, think about what it means for you if those qualities of this materials are all used to make a sleeping bag? That's right, something not expensive, waterproof, warm, and definitely something to show to your friends.
Of course, the same thing can be said about many sleeping bags. What's so special about this one, then? Well, for starters, it can fit rather tall people. I'm talking 6 feet (6 feet and 2 inches to be exact). It can also be more than adequate for temperatures at 15 degrees Fahrenheit. Not the most cold-proof sleeping bag you would think but it's definitely decent. In practice, this sleeping bag is suitable for much colder environments, just make sure to dress up a little bit before going to sleep and you will definitely be fine.
But even though this bag will fit tall people (as long as they are not too tall), people with big frames may experience problems with that, especially women. Do note that this is a mummy-shaped sleeping bag.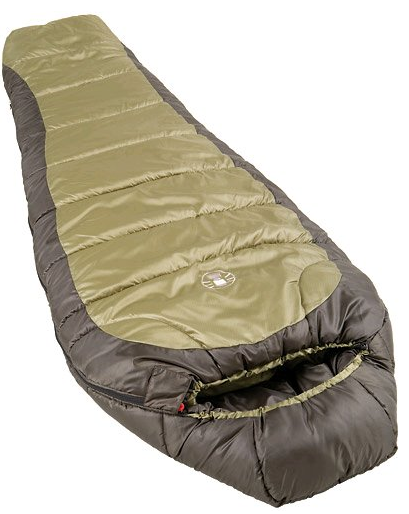 Pros:
Insulated
Waterproof
Unisex
Perfect for moderate cold
Windproof
Cons:
Not suitable for big people
---
Cheap, lightweight, compact. These are some of the most important qualities any portable bedding must have. For a sleeping bag, this is even more important. After all, unlike even the best futon or a foldable mattress a sleeping bag is almost always carried on foot, and not just that, it is often carried in very severe weather conditions. And it's only one of many things a hiker carries, therefore, it makes perfect sense that each and every item in their backpack should be as compact and lightweight as possible. Also, I believe that the piece about the price is self-explanatory.
Of course, those factors alone are not enough to make a decision. So here's one more thing: this sleeping bag is ideal for sleeping at zero degrees Fahrenheit. Which is -18 degrees Celsius for those who is not well-versed in the Imperial system. It's also waterproof. And all of that only weighs three pounds (technically, not even that much). How's that for a perfect camping sleeping bag?
If I were to list all the features this sleeping bag has, that would be a very long list, without any explanations whatsoever. Suffice to say, with this sleeping bag, you can go anywhere, anytime. The best sleeping bag for extreme conditions.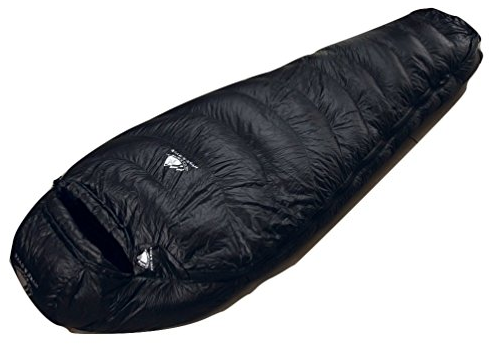 Pros:
Insulated
Waterproof
Perfect for extreme cold
Windproof
Cons:
Can be too hot to sleep in
---
Rectangular Sleeping Bags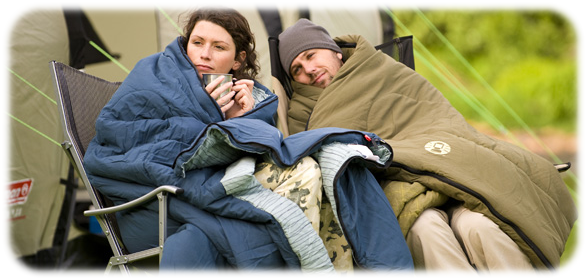 These are a little bit different. For starters, they do not offer the same level of insulation as mummy-shaped sleeping bags. On the other hand, the reason for that is that they have more free space. While don't snug to the body of the sleeper, they can accommodate a big person. Or, in the event that particular quality is not needed, they can easily accommodate two adult, which is perfect for couples. And warmer as well.
That said, they are not well suited for cold weather. Perhaps, it would be better to get something else if you are planning on traveling somewhere with cold climate.
The greatest advantage of rectangular sleeping bags is their ability to accommodate big people or couples. Add to that the fact that these sleeping bags can easily be attached to each other, and you can see that they are the best option for traveling in big groups. Well, provided it's not too cold.
Top 3 Best Rectangular Sleeping Bags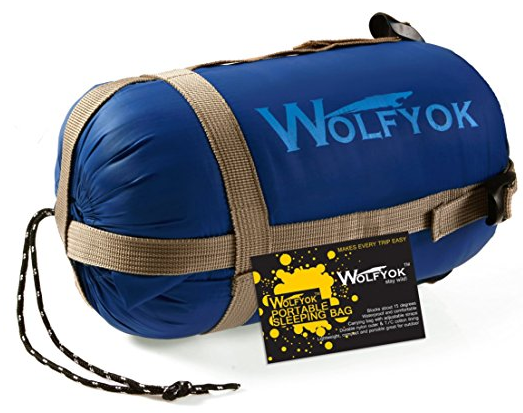 If you are a confirmed hiker or camper, this sleeping bag will be just the thing for you. Weighing only 700 grams, this sleeping bag may be not the cheapest one around but it's definitely one of them.
On top of that, it is waterproof, which is not really surprising but definitely welcome. However, you should expect this. After all, a leaky sleeping bag is one of the worst things to happen to a hiker.
The outer layer of the bag is made from nylon. Inside, it is layered with cotton for extra comfort and insulation. Perfect for temperatures down to 60 degrees Fahrenheit (15 Celsius), which means I wouldn't really recommend it for winter but the other three seasons shouldn't be a problem. Although that depend on where exactly you plan to travel. Perhaps, it is ill-suited for Alaska, Canada or Russia no matter the weather. It also comes with little to no padding. So it would be better to pay attention as to where to crash.
At the same time, this is a unisex sleeping bag. It is ideal both for men and women, as are most rectangular bags. And, since the outer layer is nylon, the bag is extremely easy to clean. Washing it shouldn't be a problem either.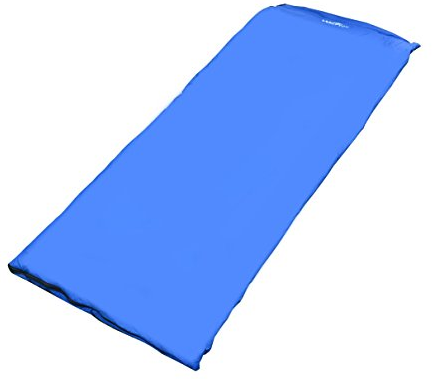 Pros:
Easy to clean
Inexpensive
Insulated
Waterproof
Unisex
Cons:
Ill-suited for cold climates
Little to no padding
---
Unlike the Wolfyok sleeping bag, this one is better suited for cold climates, if only marginally. As long as the temperature is no lower than 40 – 60 degrees (5 – 15 Celsius), you should be perfectly warm. It provides better insulation than most sleeping bags and, at the same time, it is extremely soft on the inside. Which, as you can guess, is perfect for sleeping. Although I would still recommend sleeping in a tent rather than on the naked ground.
It is, however, not exactly suitable for tall people. At least, for those of them who are taller than 5'11'' (180 cm). Most people are not taller than that anyways, but some are. If you're one of them, I strongly advise that you consider buying something more fitting.
The zipper is also insulated so you don't have to worry about losing heat through it. If you make sure it's zipped up, of course.
But, be it as it may, this sleeping bag is perfect for those who prefers to travel light and sleep warm. Although some people find the inner lining uncomfortable to the touch so be aware.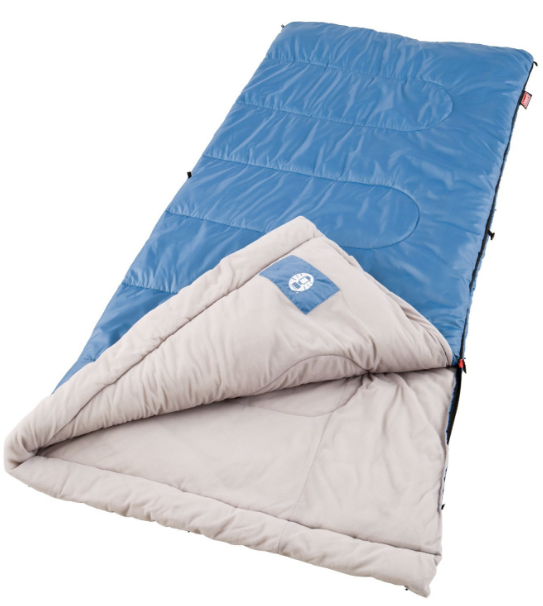 Pros:
Easy to clean
Inexpensive
Insulated
Waterproof
Unisex
Relatively warm
Cons:
---
A sleeping bag for temperatures almost below the freezing point sounds good enough but it's definitely not the best choice sleeping below those temperatures. What would be a good choice for winter, then? What if you want to hike in the mountains? What if there will be snow as far as they eye can see?
In that case, the TETON Sports Celsius will be a perfect choice for you. This sleeping bag is the most optimal choice for temperatures up to 0 degrees Fahrenheit (-18 degrees Celsius). Is it freezing outside? Why, that's not your problem anymore! Wrap yourself in this perfect sleeping bag for extreme cold and enjoy. There's nothing else I can say about it that would be as much important.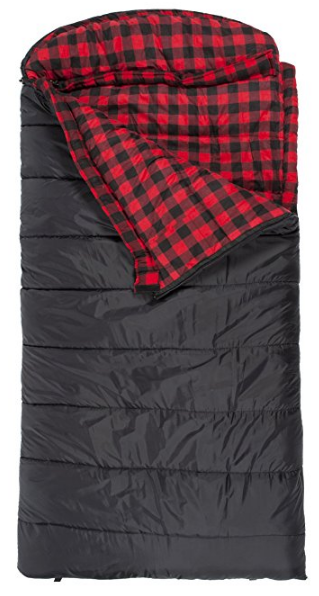 That said, this sleeping bag is not 100% natural. In fact, it is mostly comprised of polyester. And it weighs 7 pounds, which is a lot for a sleeping bag but much less than a mattress would weigh. So, it's up to you to decide if this sleeping bag is a good choice or not. But it is definitely one of the best.
Pros:
Insulated
Waterproof
Unisex
Perfect for extreme cold
Cons:
---
Barrel Shaped Sleeping Bags

If you like the way both mummy-shaped and rectangular sleeping bag sound, but you know that either of them wouldn't be enough for you by itself, then a barrel-shaped sleeping bag is just the thing for you. A perfect compromise between warmth, roominess, and compactness. Perhaps, too little for a couple but perfect for big people.
Aside from that, there's nothing to add. Well, with the exception of the fact these sleeping bags are more like mummy-shaped bags than the other type.
Top 3 Best Barrel Sleeping Bags
A standard mummy bag may be a little too much for price-conscious people. After all, whether expensive or not, it is only in comparison to other such bags. And, mummy bags, in general, are not cheap.
This barrel-shaped sleeping bag is, however, much more affordable, more so than even the cheapest mummy bag in this review.
It is suitable for tall people, which is important for many of us.  And, like most barrel-shaped bags, it offers a lot of space. Perfect for those who do not appreciate how a standard mummy bags snugs to the skin.
The outer shell is 100% waterproof, while the lining is perfectly breathable. All in all, a perfect sleeping bag, however, it is best to not use it at freezing temperatures. It is only good for 32 degrees Fahrenheit.
Still, lightweight and compact, this is a perfect sleeping bag for any season other than winter. The zipper is as much insulated as the bag itself, which keeps the heat from escaping.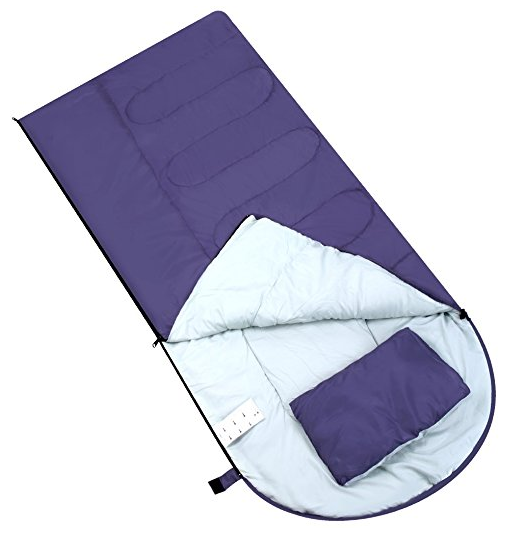 Combined with an expandable hood, this bag will definitely protect you from any wind, no matter how chill and strong. Well, at least it will protect you from the cold; a sleeping bag is not an anchor, after all.
Pros:
Low price
Insulated
Waterproof
Windproof
Lightweight
Cons:
Not suitable for extreme cold
---
This may not be a sleeping bag perfect for everyone, but will it be suitable? Definitely yes! While it is only fit for temperatures at the freezing point, it still can be used in many conditions.
The outer shell is waterproof, which is completely understandable since it is made from polyester. The lining, on the other hand, is made from 100% natural cotton. Not the most popular composition but not exactly rare one either.
Unlike many other sleeping bags, this one is a perfect fit for big people. It is oversized to provide more free ample space, however, it can definitely be used to let a heavy person fit in there easily.
One of the most common problems with zippers is zipper snags. What is only a nuisance when happening to a piece of clothing, this problem might have disastrous effect when applied to a sleeping bag. After, a human body is extremely vulnerable during sleep.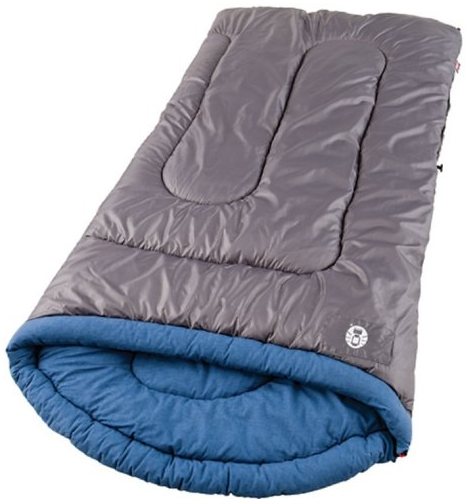 The insulation does not shift, which is a good thing since it prevents uneven heat distribution. However, this sleeping bag is rather bulky. If that's no problem, it will make a perfect purchase.
Pros:
Low price
Insulated
Waterproof
FiberLock
Cons:
---
Bad things first: this sleeping bag is rather bulky. Much like many other sleeping bags from Coleman. And, like many other sleeping bags for extreme cold, this one is very thick and difficult to roll up because of that. However, such drawbacks originate from all the good things a sleeping bag can offer. They are their natural extensions. What does this mean for you? Well, for starters, this sleeping bag is perfect for extreme cold (duh). I'm talking zero degrees Fahrenheit. And that's just impressive.
Of course, that said, it is not the best idea to use this bag at 32 degrees. Not that it won't keep you warm, it will, of course, but it will keep you a little bit too warm, and that's a problem. Overheating is no fun, believe me, even in winter.
This is a synthetic sleeping bag but don't let this little tidbit discourage you. These days, synthetic materials are no worse than organic ones, especially when it comes to keeping you warm.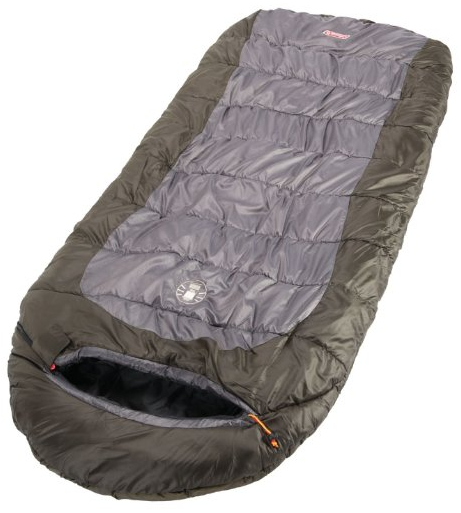 Not only is it warm, it will also fit people to 6"6'. So if you're tall, and plan to hike in winter, this sleeping bag is for you!
Pros:
Low price
Insulated
Waterproof
Suitable for extreme cold
Cons:
---
Double Sleeping Bags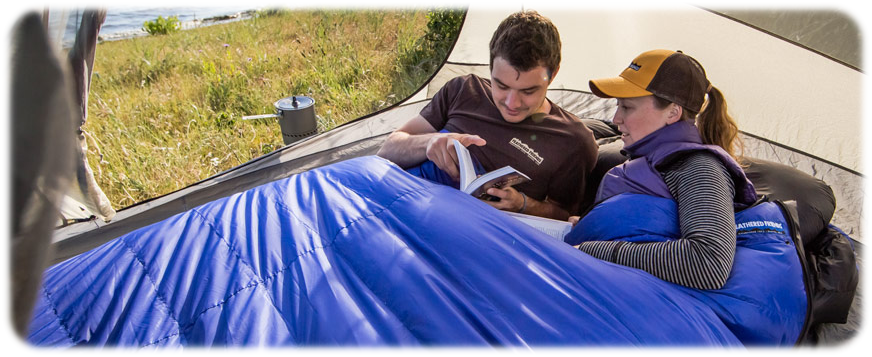 As a rule, a double sleeping bag is a rectangular sleeping bag which is specifically tailored to accommodate at least two people. Hence the name. While a regular rectangular sleeping bag can be used in the same manner, it is only a possibility that is not guaranteed. Double sleeping bags, on the other hand, will most certainly be able to accommodate a couple of people at the very least, possibly more. They might as well be called 2 person sleeping bags. They are best for the task.
A couple of standard rectangular sleeping bags can be zipped into a double sleeping bag and vice versa. However, some doubles come in one piece and cannot be separated into individual beddings.
Top 3 Best Double Sleeping Bags
Want to save some money? Then this sleeping bag is just the thing for you. Cheap and finely made, what's not to admire?
That said, be advised that while the price and quality ratio is impressive, it's mainly impressive because of the price. Meaning, this sleeping bag pales compared to some other products. However, said products are much more expensive, and that what makes this sleeping bag as attractive as it is.
I would not advise to is for temperatures below 23 degrees Fahrenheit, however. Even then, it would be better to use it when it's approximately 32 degrees or a little lower. That way, you will be able to get the best out of this bag.
Although a double sleeping bag, it can be easily unzipped into two separate one. I wouldn't recommend doing that, though, as it would be less warm that way, but the possibility is there and, admittedly, it would ensure better mobility and comfort.
Since it is filled with cotton, it would be best to be more careful with liquids in this sleeping bag. It can easily soak before you have the time to blink. Handle it as you would a blanket, and everything will be fine.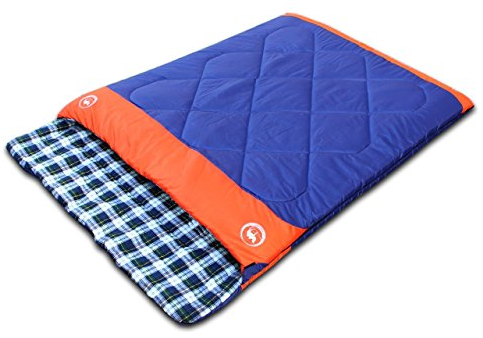 Pros:
Low price
Well-insulated
Unzips into two sleeping bags
Roomy
Cons:
Not waterproof
Moderate cold resistance
---
If you prefer nice and comfortable sleeping bags and are ready for that, a Winterial bag is what you need. Particularly, this one. If you're going camping or hiking as a family, make sure to take the Winterial Double Sleeping Bag with you. It is specifically designed to meet the needs of couples.
I have to say, this sleeping bag is not lightweight. It weighs 16.5 pounds. That's rather heavy. I do not recommend hiking in the mountains with this bag. It is not impossible to use it for hiking there or hiking in general, but do make sure you can carry that much. Perhaps, one of the couple will end up carrying the bag, and only the bag, whereas the other one will be carrying everything else.
To sum it all up, don't even doubt if you will be using your car. A perfect sleeping bag for perfect sleep. If you will be traveling on foot, however… make sure one of you is strong enough. You may think 16 pounds is not much, but if you do, you probably never tried carrying such a weight for a relatively extended period of time.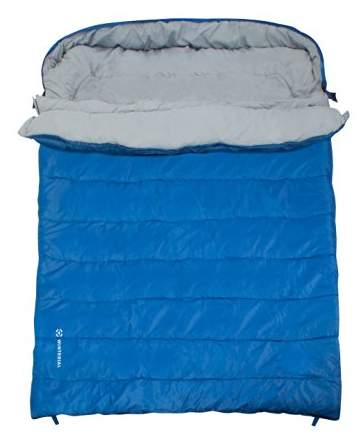 This bag is perfect for temperatures at 20 degrees Fahrenheit. It might seem like it's not much, but it's a practical limit, not just nominal.
Pros:
Insulated
Waterproof
Perfect for moderate cold
Windproof
Cons:
---
Price does not only affect quality. It also affects qualities, as in, features. One of such features is weight. The Ohuhu Double Sleeping Bag only weighs 6 pounds. With it, you can pack much more stuff than you expected you could. And that's not it's the only advantage! It is durable, water-resistant and warm. Comprised of the best synthetic and natural materials, this sleeping bag is one of the best money can buy. It also looks perfect, which is not essential but a nice bonus anyway.
In addition to everything said above, this sleeping bag can also be unzipped into two. Perhaps, you will find this unnecessary but who know, maybe, you will have to use this feature of this sleeping bag sometimes. After all, not only romantically involved couples have to share their tents, especially somewhere in the mountains.
The sleeping bag comes with a carrying bag of its own and two pillows. A nice bonus if I do say so myself. Of course, the temperature tolerance leaves some room for improvement but it's definitely not bad. 23 degrees Fahrenheit is actually pretty decent.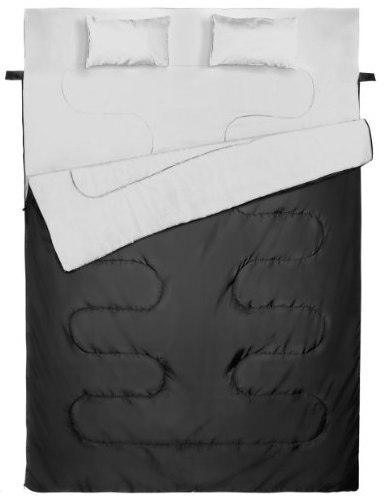 Pros:
Insulated
Waterproof
Low price
Windproof
Lightweight
Unzip into two bags
Cons:
Only suitable for moderate cold
---
Sleeping Suits

At least, that's what I call them. You can also hear some people calling them body-shaped sleeping bags but in my opinion, "sleeping suit" is closer to home. I mean, that's what they are.
That said, while it is a suit of sorts, it is also a type of bedding. They are padded on the inside and rather comfortable to sleep in.
Unlike a regular sleeping bag, this type of bags comes with arms and legs. It does not provide the same level of warmth as a mummy-shaped sleeping bag but it is, perhaps, the most comfortable sleeping bag possible since it enhances your mobility. With any other sleeping bag, the most you can do is to sit up awkwardly. And that's that. With this type, however? You can sit, you can walk around, you can do almost anything you would normally do and you can sleep just about anywhere. So, while unorthodox, this is a very convenient device.
Top 3 Best Body Shaped Sleeping Bags
Don't like the idea of being constricted in a small sleeping bag? Fear not! A sleeping suit, also known as a body sleeping bag, would be enough to solve your problem. With this sleeping suit, however, not only will you not be constricted, you will also be kept just as warm as in a standard sleeping bag. What's not to like? The price? Nope, even the price is rather moderate.
In fact, you will be kept even warmer than in an actual sleeping bag. How so? That's easy, there's no zipper to leak heat. Technically, there are two, but they can only be used to let your hands out without taking the entire suit off. If you were starting to worry about that particular issue, by the way, don't. The main advantage of a body sleeping bag is enhanced mobility, and it won't be restricted in any way. Need a hand? You got it.
As for the height, it will definitely be suitable for almost anyone. If you're not taller than 6"6', you should have no problems.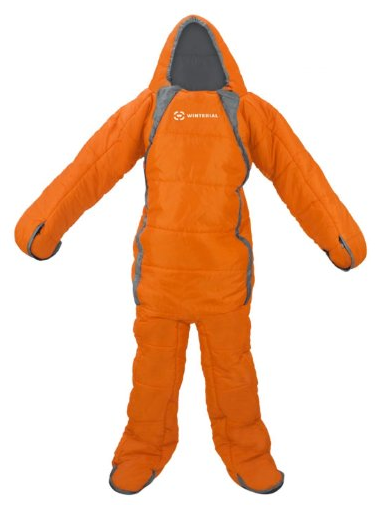 It's only good for temperatures from 20 to 50 degrees, but while the limits themselves may not impress some people, the range itself certainly cannot be underestimated.
Pros:
Low price
Insulated hood
Mobile
Cons:
Not suitable for extreme cold
---
Sometimes, the color scheme is the deciding factor when purchasing a sleeping bag. Or anything else, really. So this particular sleeping bag is not for everyone. I know that some guys won't be caught dead in this. I understand that color pink is a huge deal breaker for many people. If you think so too, let me tell you one thing: you're missing out a lot of good stuff.
Indeed, this sleeping bag is definitely not designed exclusively for women. It's definitely unisex, and the color is the only thing that throws off some people.
This body sleeping bag comes with Velcro straps. They are used only to prevent the bag from slipping and shifting but that is definitely important in its own right. Why? First of all, it's more comfortable that way. Second, you don't have to worry about tripping yourself. A couple of straps around your ankles will be more than enough to prevent that from happening (unless you trip over something other than the sleeping bag, be careful to avoid any injuries).
The temperatures it is suitable for are not quite as impressive but if you don't plan to sleep in the snow, you should be fine.
Pros:
Low price
Insulated hood
Mobile
Anti-tripping technology
Cons:
Only suitable for use at temperatures above the freezing point
---
Body shaped sleeping bags, in general, are better suited for higher temperatures than standard sleeping bags. This one is no exception. Only use it when the temperature is above the freezing point. Technically, it is still usable when it's 26 degrees Fahrenheit outside, but that's the limit. As in, the limit. No lower than that. The weight, however, is very impressive, only three pounds. It is mostly achieved by utilizing polyester.
Unlike some other sleeping suits, this one comes with inner pockets. Not unusual for sleeping bags in general, this is especially useful with one of this particular design. It also has many other features of a standard mummy bag, such as zipper baffle, thermo-collar and 2-way zipper.
Much like the other body-shaped sleeping bags, this one comes with quick release hand zippers. Want to get some food? Throw some wood into the fire? Have a nice cup of coffee? Just do it without getting out of the sleeping bag. Only free your hands, you can quickly hide them again and stay warm.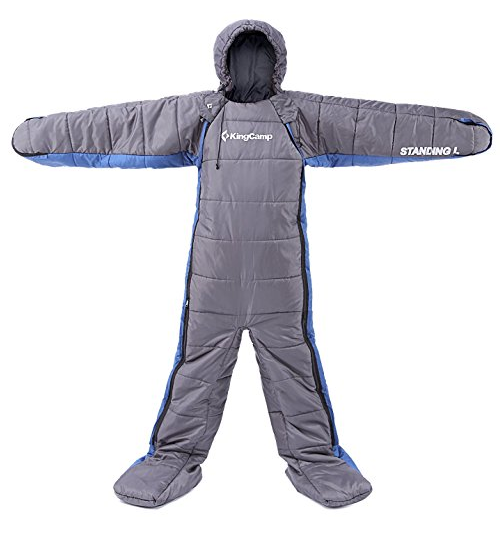 Of course, if you want to sleep in winter, it would be best to get another sleeping bag. Preferably one of another design.
Pros:
Low price
Insulated hood
Mobile
Inner pockets
Lightweight
Cons:
Only suitable for use at temperatures above the freezing point
---
Sleeping Bags for Children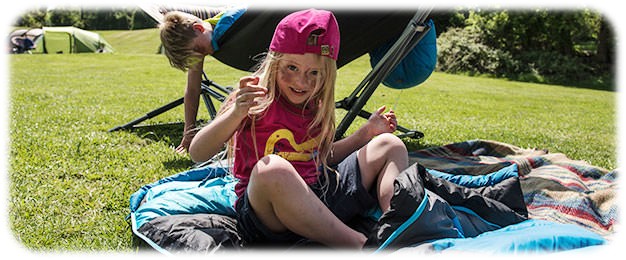 While female and male frames and physiologies are different, the difference is nothing compared to the difference between the body of an adult and that of a child, no matter the gender. Children are smaller than adults. By how much? Well, that depends on the age of the child.
Either way, children definitely need smaller sleeping bags than adults. While it is not impossible to use an adult's sleeping bag, doing so is not recommended. Mostly because it will be not quite as warm and probably more uncomfortable than the opposite.
Since it is typical for whoever sleeps in a sleeping bag to carry said bag by themselves, it is also critical that the bag is lightweight.
Top 3 Best Children's Sleeping Bags
When it comes to children, the design of a product is sometimes more important than its other features. Sleeping bags are not really different in that department. And guess what? This Minnie Mouse and Daisy Duck sleeping bag will be really appreciated by your little one.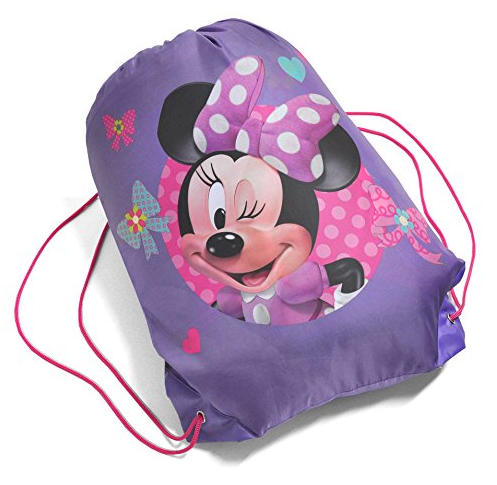 Of course, it lacks any significant cold resistance. I really don't recommend it for sleeping outside, and definitely not in the winter. Just no. However, it is a perfect thing for sleepovers. Especially since you can't expect other people to have means to accommodate your child. And, of course, you can't expect them to take a futon with them. They can be too heavy even for some adults, for children they might be unmovable. But a sleeping bag? Now that's different. Add to that the fact it has a sling bag to carry it, and you will see this is a good deal.
While for adult sleeping bags this is of little importance, some parents might not appreciate the fact this sleeping bag is made from polyester. However, I recommend that you don't worry about that. Even if polyester were harmful, such limited exposure would never be enough to truly affect the health of the child in a negative way.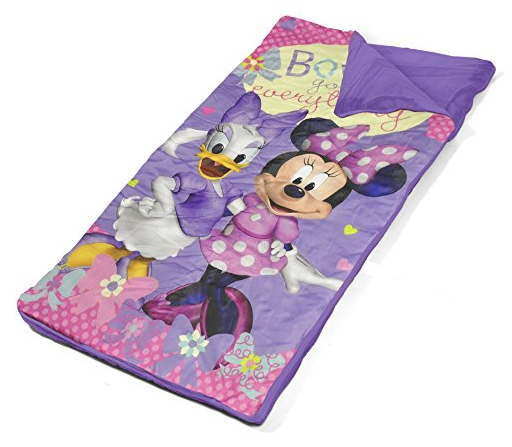 Pros:
Beautiful design
Comfortable
Easy to get in and out
Cons:
---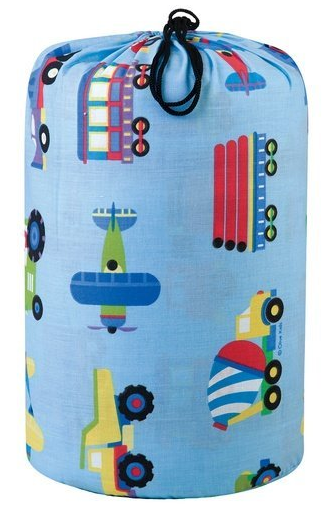 This sleeping bag, although designed for children as well, has a different target group. It is more gender-neutral, unlike the Minnie Mouse sleeping bag and, at the same time, mostly suitable for younger children. It doesn't, however, mean that it cannot by used by older children.
Again, I do not advise to use it for sleeping outside. Children do not adapt to cold quite as well as adults do. But for sleepovers or even camping (provided it's not really cold outside) this sleeping bag is simply perfect.
The composition of the sleeping bag is designed to meet all the safety standards. It is one of the safest sleeping bags for children you could think of! Zero lead, no BPA, phthalate-free, and, on top of that, the Olive Kids Original Sleeping Bags meets or exceeds all the flammability requirements.
The bag comes with a matching travel pillow, which is rather convenient since most of the time sleeping bags do not include pillows at all. When it comes to children, that is a serious drawback, avoided with this sleeping bag.
Be advised that the Olive Kids sleeping bag is not suitable for children taller than 5 feet.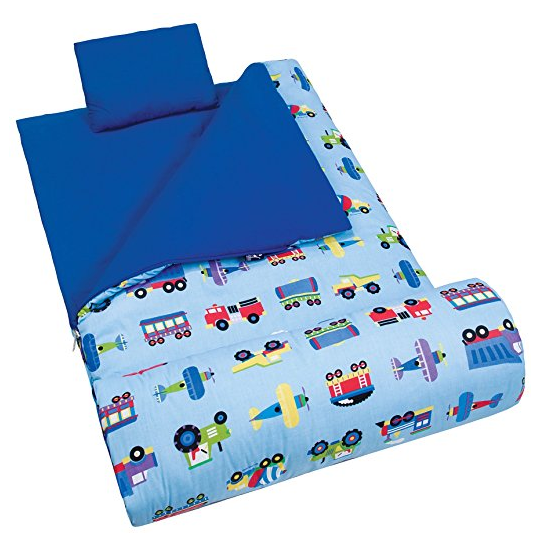 Pros:
Beautiful design
Comfortable
Comes with a pillow
Cons:
---
The Melissa & Doug Mollie Sleeping Bag has one very important advantage: it is lightweight. Which is extremely important for a children's sleeping bag. After all, children cannot carry too much stuff, now can they?
The design of this product is nothing too fancy. It's a simple ladybug-themed item. But while it lacks intricate prints, this same lack makes it suitable for more children. The design becomes less of a problem and, perhaps, your kids will not grow out of this sleeping bag for a few many years thanks to that.
The Mollie sleeping bag is relatively long for a children's sleeping bag (almost 6 feet long) but, naturally, it is not likely to be used by teenagers.
Unlike other sleeping bags for kids, this one is warm since it comes with polyester fill. Although synthetic, this material is as close to natural fabrics as it can be. No allergies, no adverse reaction, no negative effects. A perfect material for a children's product.
This sleeping bag can be used for sleepovers, playing camping, and actual camping as well (in controlled conditions only). You child will definitely have a lot of fun with this toddler sleeping bag.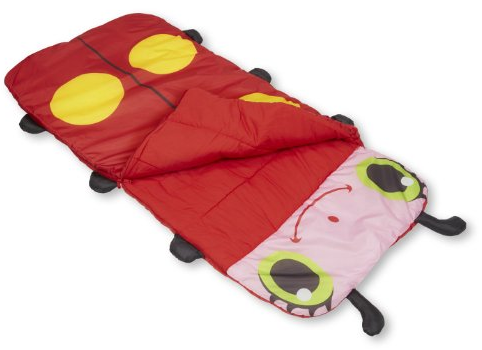 Pros:
Comfortable
Comes with a pillow
Warm
Cons:
---
Jumbo Sleeping Bags
I am now resisting the urge to compare them to jumbo jets… but it seems like I'm failing.

On a more serious note, though, a jumbo sleeping bag is yet another type of sleeping bags. It wouldn't inaccurate to categorize them as rectangular sleeping bags, however, they are even roomier. Unlike most of the others, these are not as fitting because they happen to be semi-rigid. Basically, they are sleeping bags that can support their own shape. They provide a lot more freedom than any other sleeping bag other than sleeping suits.
---
Sleeping Bags for Women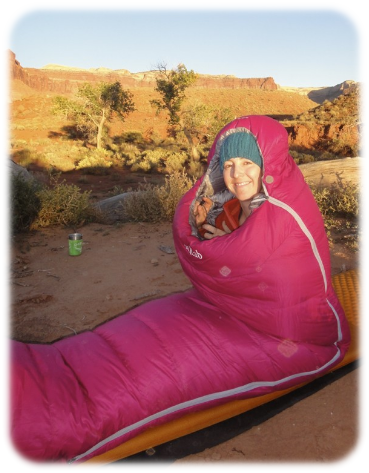 While I'm all for gender equality, there's no denying that male and female physiologies are not completely the same not just in how the reproduction system is organized but even in how their frames are built. Slightly different body shapes may be unimportant when we're talking regular beds but not when sleeping bags (or clothes) come into the picture. Then there's the fact that the endocrine system has a huge impact on how fast we get cold and both subjective and objective experience of cold. What does it mean in reality? Women get cold at night easier than men do, and that's why their sleeping bags has to be warmer.
Of course, a sleeping bag for women doesn't have to be specifically tailored for them, it just has to be able to accommodate them and offer the adequate level of comfort. Something to keep in mind when choosing a sleeping bag.
---
Bottom Line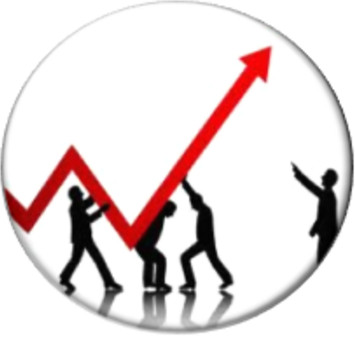 A sleeping bag is both like and unlike a mattress. It is similar in that it is designed for sleeping. It is different in that it is first of all portable.
A mattress, any mattress, even a portable one, can be used for sleeping at home. A sleeping bag, no matter how good, cannot, unless on a pure technicality. A sleeping bag is more of a special device than a bedding.
Unless we're talking about sleeping bag fro children, there is only one situation a sleeping bag is designed for: sleeping outside, either in the open or in a tent. Everything else is an unrealistic scenario. But if you're a hiker, a camper or a mountain climber, the only thing you're gong to be using is a sleeping bag. Not a mattress.