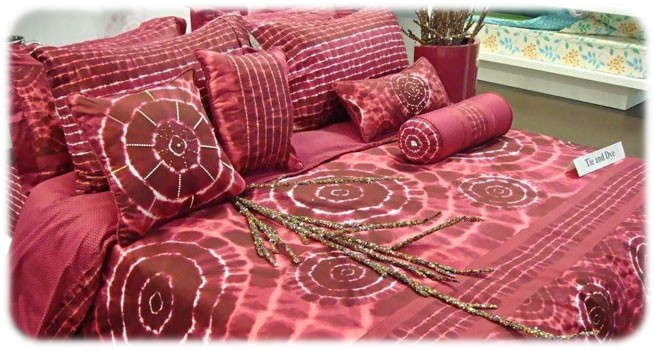 Cotton is one of the most popular organic fabrics. It has been for a long time, even though it had to compete with linen and other materials, even the best silk sheets. These days, cotton sheets are sold virtually everywhere in the world. There's a good reason they flooded the market. Cotton is cheap, organic, reliable and easy to wash.
That said, there are many types of cotton blends. Egyptian cotton is the popular enough, to the point it deserves an article of its own. But in this one, I will review other types of cotton sheets.
Advantages of Cotton Sheets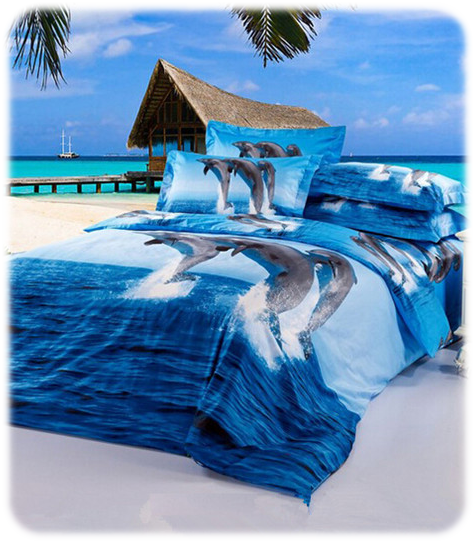 The advantages of cotton sheets stem from the advantages of cotton itself, and there's a good reason cotton remains popular, both in bed sheet industry and clothing industry. One of the most important ones is that cotton has little to no smell.
That means that cotton sheets lack any kinds of chemical scent, and that is very important for long and sound sleep. Cotton is also breathable and absorbent. Perfect for hot sleepers. Although it would not prevent you from breaking into a sweat, the cotton sheets would absorb the sweat itself, whilst allowing unrestricted airflow.
Cotton is also soft, hypoallergenic and almost never irritates skin, with the exception of select few hypersensitive people (which could use silk sheets instead).
Additionally, it is cheap and easy to wash, as I've said above.
Disadvantages of Cotton Sheets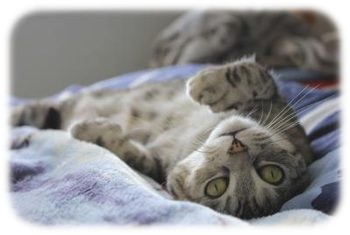 Whilst cotton sheets are great and reliable, they are not without disadvantages.
First of all, cotton is cheap but not the cheapest bedsheet material. Polypropylene sheets are often cheaper than cotton, and some natural materials do have a better price and quality ratio, even though they are relatively hard to come by.
Cotton is easy to wash but it's also too easy to get dirty. I'm not talking about trivial stuff like spills and stain, although cotton is susceptible to those as well, no, I'm talking about how easy it is to get a cotton sheet dirty just by sleeping on it. It absorbs liquids rather hungrily if I do say so myself, and when it absorbs sweat, it is only naturally that things are about to get ugly.
Who Needs Cotton Sheets

Unlike many other types of sheets, cotton sheets are most common. They also have luxurious varieties so it would be inaccurate to claim that cotton sheets are primarily designed for common use only. But, be it as it may, it is very likely that the bedsheets you're using are, in fact, made from cotton.
Cotton sheets can be used in many conditions. If you don't have any special requirements, cotton sheets will be perfect for you. They don't wrinkle much, they are soft and hypoallergenic. A perfect default choice.
Top 5 Best Cotton Sheets
These sheets come in 7 varieties and 6 colors. I'm not talking about just bed size, some of them include pillowcases as well. The Solid Tan has an impressive thread count of three hundred. The sheets are percale-woven, which makes them strong enough to construct a primitive airplane. However, we won't be doing that. After all, such a plane would be far from safe anyway.
Let us concentrate on what actually matters for us most.
You shouldn't expect these sheets to be too soft. It's not the best idea to compare them to 900 thread count sheet or better ones. On the flipside, they're definitely more affordable, and that is rather important Nevertheless, these are definitely luxury sheets.
They should be a nice supplement for a memory foam mattress since they help to regulate body temperature. Extra wide, these sheets will look perfectly.
Make sure to only machine wash them in cold water, preferably with similarly colored laundry. Bleaching is not advised.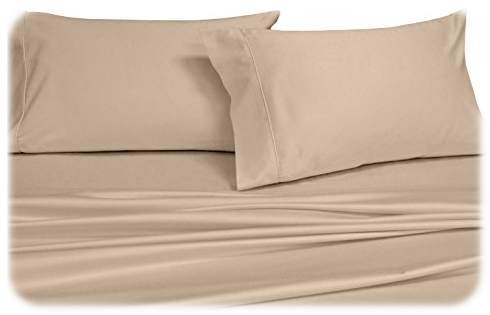 Pros:
Price
Size
Softness
Assortment
Cons:
---
Fifteen varieties and 16 colors. That's what you get to choose from. That should be enough to meet the expectations of even the pickiest customers.
Be advised, these sheets are not made from 100% cotton. They only contain 70 percent, the rest is polyester. I would say that these sheets are cheaper instead, except they are not.
What's the catch, then? Well, the polyester makes the fabric wrinkle-resistant. Secondly, it's all about the thread count. How about 650 threads per inch? I believe that's quite impressive.
It's without little drawbacks. First of all, these sheets do wrinkle, just not as easily as standard cotton sheets. Also, some people may find it unpleasant to the touch due to the high concentration of polyester. If you prefer natural materials, I advise that you don't use these sheets and get something other instead.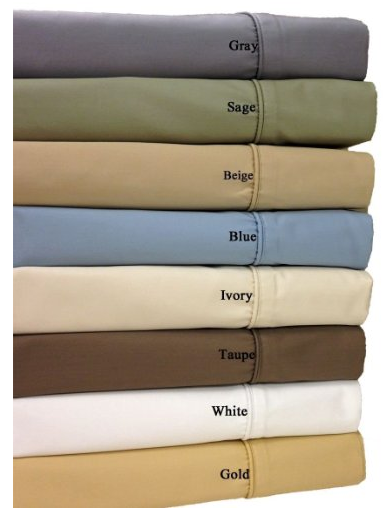 You can iron these sheet but do it carefully. They are very easy to damage.
Pros:
Price
Size
Softness
Assortment
Thread count
Cons:
---
Only four varieties this time but for a very good reason. These perfect sheets for everyone, for the most popular bed sizes. These are definitely not luxury sheets, they do not have an appropriate thread count. 220 thread per inch is impressive but not enough to call a sheet luxurious.
On the flipside, these sheets are very cheap. It's one of the reasons as to why they're worth buying. You won't spend much and you will be able to get plenty of spare sheets for the same money you would get one high-grade durable sheet, and these sheets are not exactly poorly made.
They are also made from 100% cotton. If you do not tolerate 'artificial' smoothness typical for synthetic cotton blends, this will be a perfect purchase for you.
I would recommend buying this sheet for an inexpensive memory foam or latex mattress. High-end mattresses require something better, but this one will do for middle-tier ones.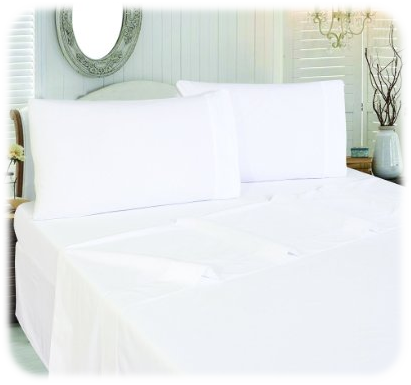 Pros:
Low price
Softness
Natural
Fade-resistant
Cons:
---
Another product from Royal with similar characteristics but completely different at the same time.
One hundred percent cotton percale may sound familiar to you, just as 300 thread count. However, these are deep pocket fitted sheets. Forget about sheets sliding and shifting under you. You don't have to endure that any longer. Just get yourself these fitted percale cotton sheets, and everything is going to be much better.
Naturally, the sheets' hems are elastic (to keep the sheets in place) but that doesn't make washing them any more difficult. Just make sure to wash them in cold water, don't wash them with different colors and, of course, don't bleach them. And there you go! You crispy soft sheets will serve you for a long time yet.
If your mattress is taller than 22 inches, you will no be able to use these sheets. Also, don't forget to account for the topper and mattress protector in the event you use them since they contribute to the height of the bed considerably.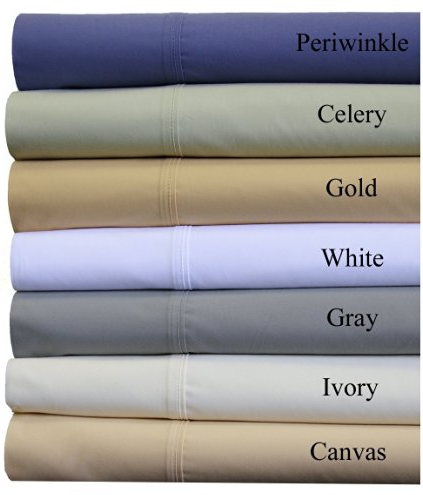 Pros:
Price
Size
Softness
Assortment
Fitted sheets
Cons:
---
This set is, perhaps, not the cheapest one around but definitely very far away from the most expensive one. Let me put it this way: a dinner at McDonald's might cost you more.
Despite its relatively low price, these sheets come with a very respectable thread count of 600 threads per inch. And it's not some kind of cotton blend, the sheets are made from 100% natural cotton.
What will you get for that money? A flat sheet, a couple of pillowcases and a fitted sheet fit for mattresses up to 22 inches. Just make sure yours is not taller and everything is going to be alright. Even it is taller, well, no problem, you still have that flat sheet. Although I would recommend using a thinner mattress anyway.
You deserve this. Soft, silky, all-natural, cheap, easy to use and wash. No hot water, though, that's not the best way to treat these sheets.
To put it simply, these are the best cotton sheets in my opinion.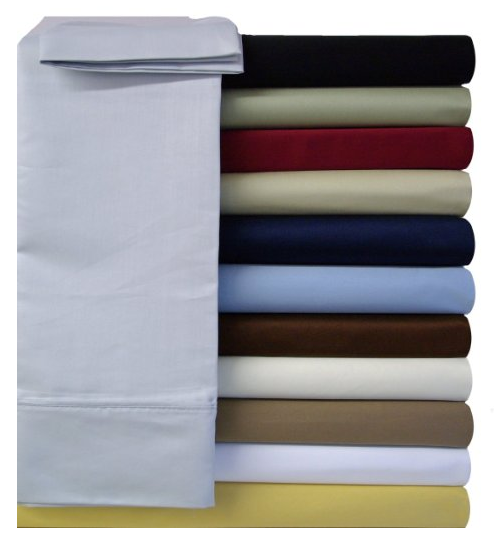 Pros:
Low price
Soft
Natural
Fitted sheets
Assortment
Comes with pillows cases
Cons:
---
Bottom Line
Cotton sheets are some of the most common sheets not just in America but also in the world. They come in many varieties, some of them luxurious, some of them not. Whatever variety you choose, make sure you're comfortable with the sheets you've chosen.
Some problems typically associated with mattresses can be solved by purchased the right type of bedsheet. It's not very strange since sheets do interact both with the mattress and the body.
Cotton sheets are some of the best sheets to use if you sleep hot. Before you replace your mattress or mattress topper, try to replace the sheets first. Perhaps, you will save a lot of money.