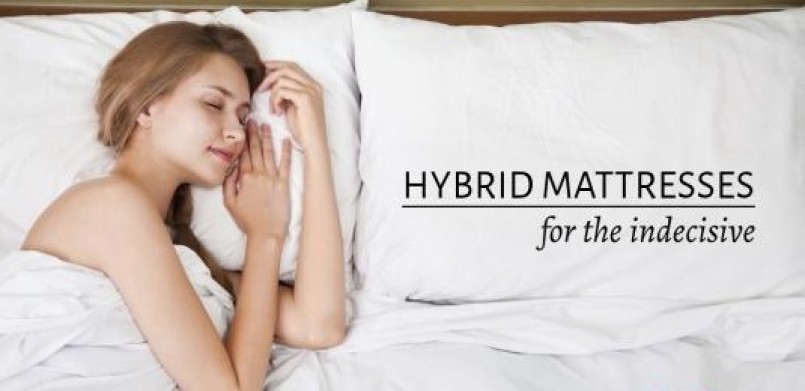 And here we are! Best hybrid mattresses for your attention.
Believe me, there are lots and lots of hybrid mattresses. The thing with them is they only follow one basic concept, otherwise, they may have nothing to do with each other.
Of course, I'm not talking about only those hybrid mattresses that share at least one concept, like, innerspring/latex mattresses and memory foam/latex mattresses. It's the concept of combination itself that is important here. But at the same time, this concept is probably not something that is particularly of interest to you.
Why would you write these reviews then?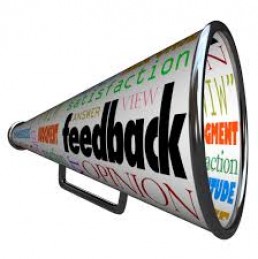 That's not too hard to answer.
Whereas you probably are not interested in the concept of a hybrid mattress as such, you may be interested in specific hybrid mattresses. For instance, some of you might want to look up memory foam/latex mattresses, some of you might want to get an innerspring/memory foam mattress, and so on and so forth.
However, you will only encounter hybrid memory foam mattresses in this reviews.
Benefits of hybrid mattresses
They are rather obvious to those who have to deal with mattresses daily—or weekly at the very least. They take the best from both basic types of mattresses, which is obvious to anyone, but what would that "best" be?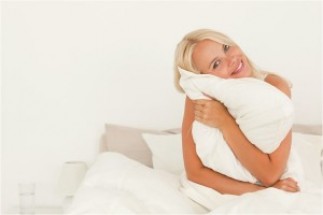 In this instance, the most important quality is the precise support memory foam can provide. As a rule, memory foam layer would be on top, regardless of what other concepts the mattress incorporates.
The reason for memory foam being on top is the fact it reacts to body heat and pressure. Memory foam has been developed under NASA for crash protection. To function properly, memory foam should contact the skin as directly, as possible. Sometimes, even a sheet too thick would disrupt memory foam performance.
There is no point to put it between non-memory foam layers and most certainly not as the bottom layer.
Benefits of springs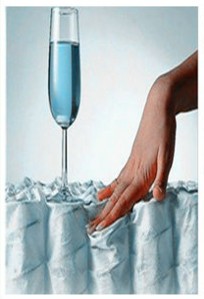 Innerspring mattresses are the oldest type of mattresses. They were introduced back in the 19th century. And yet, they still are around.
As you can guess, no mattress would still be around unless it was good enough. So what are the benefits of innerspring mattresses?
First of all, that would be the lower price, but that is not the case with hybrid mattresses. After all, they do not contain only coils only, which makes them expensive.
Second, springs provide support. It's not the same as memory foam, however. Support, provided by springs is generally cruder, but they also have more height to give in. Depending on whether the coils are interwoven or pocketed, the type of support may vary.
Benefits of latex
Latex is anti-allergenic, anti-microbial and mold-proof material. It is rather firm, although there is some give to it. And it is luxurious to the touch. It's silky and cool.
Because of that, latex is often used as the top layer. In some instance, however, like in combination with memory foam, it may serve as a transition layer or even base due to the support if provides. Latex is more supple than foam.
Benefits of air mattress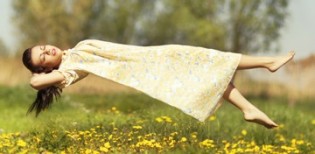 Not many of the best air mattresses are made in combination with any other kind of mattress, but some are. There is not much that can be said about their benefits other than their ability to be deflated as needed. I'm not going to review hybrid air mattresses since there is little point to it.
Drawbacks of combination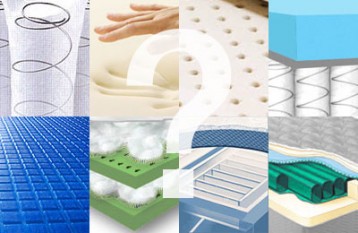 Naturally, other than benefits there are some drawbacks. So what are drawbacks of combination in general?
As you might know, multi-purpose tools always are less reliable then simple one-purpose tools. This might apply to some hybrid mattresses. The reason for that is the combination of structural weaknesses of different types of mattresses. This is a rule for any hybrid air mattress. It's rather easy to puncture one of those.
But structural weaknesses are not the only drawback possible. Sometimes, it's about the addition of drawbacks typical of a certain type of mattresses. Thus, memory foam is typically reflecting heat back at the sleeper, unless it's not countered specifically.
Drawbacks of nullification
Under drawbacks of nullification, I mean any situation when some perks of a type of mattress just aren't there due to the layer's position.
Innerspring mattresses almost never fall suffer these. Spring layer can easily be the support layer, more than that, it usually is!
Memory foam doesn't suffer that either. It's supposed to be on top, and it usually is.
But latex suffers this quite a lot. It's often used as an in-between layer or even the core layer. Anti-allergenic properties of latex hardly matter in that case. Silky touch—you can't touch it anyway. In short, latex function is reduced to support.
Top 5 list of Hybrid Mattresses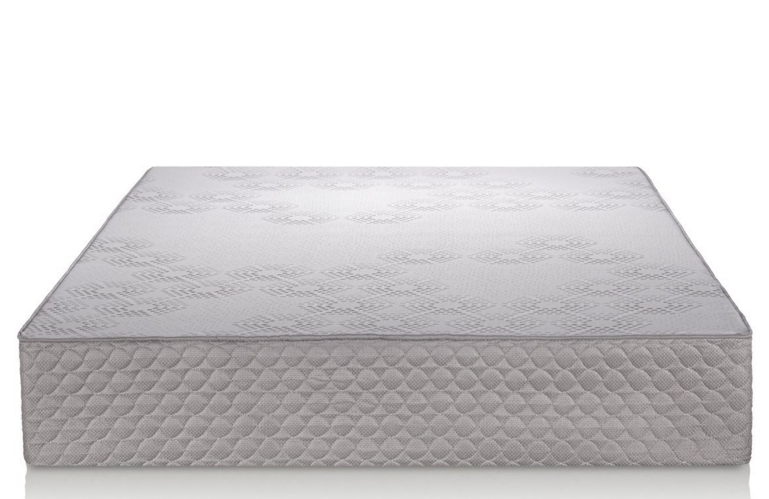 Today's list is opened with this latex/memory foam mattress. The memory foam's position is usual, which is, as I've already said, on top. The memory foam layer is gel-infused for cool sleeping.
The latex layer is used to provide uplifting support, while the memory foam layer comes into contact with your skin and conforms to your body's outline perfectly. Thanks to that, you are given both the conforming qualities of memory foam and latex's supple support.
There is also an Air Flow layer beneath the comfort layers and the core layer at the very bottom. The natural wool layer is the cover. It's used for comfortable sleeping.
However, the mattress is soft. Not quite soft enough to call it uncomfortable, but that might be a bit of a problem for some people. I wouldn't recommend this mattress for those who prefer firm mattresses, if case they know that. If not, I really advise you to try it out. To do that, you can order the mattress on Amazon.com.
The mattress comes in three comfort levels, so if you don't know your preferences yet, I recommend getting the firm comfort level mattress.
Despite the fact this mattress is not an innerspring mattress, it has a bit of a problem with its edges. They tend to collapse if too much pressure is applied to them, and that might make your sleeping experience uncomfortable. But if you're not a restless sleeper, you are not likely to experience this issue ever, and if you are, you it wouldn't necessarily bother you even then.
Pros: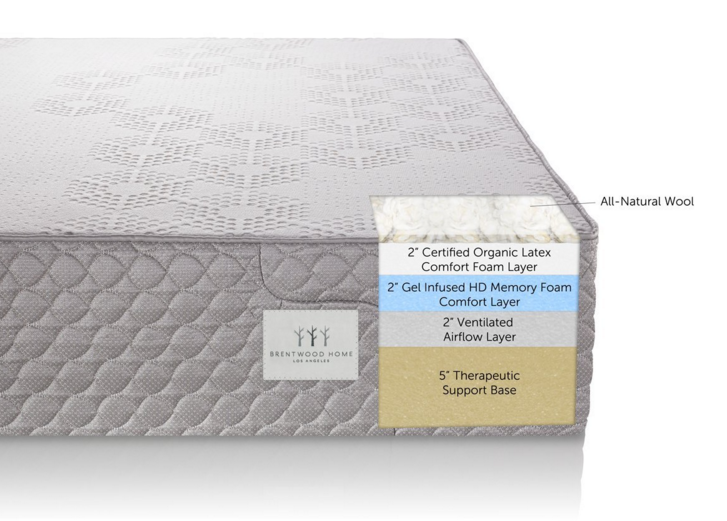 Meets Global Organic Latex Standard
CertiPUR-US certified
Airflow layer for ventilation
Gel infused for cool sleeping
Wool sleeping surface
Made in the U.S.A.
Cons:
Non-natural components included
Might be very soft
Edges collapse
---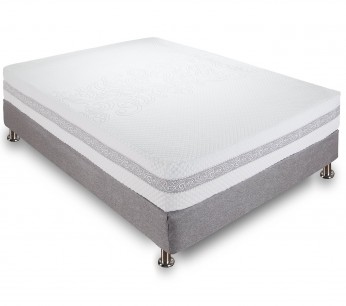 A combination of memory foam and innerspring technologies. I've already done a review on this mattress (and the previous mattress as well), and I said back then it was a perfect marriage of two competing technologies. I still stand by those my words. It is a perfect decision.
The innerspring technology does not make the mattress any more expensive. Well, not much more expensive anyway. But what it does is provide prefect crude support, further refined by the gel memory foam. I really should mention the coils are pocketed. Thanks to that, any motion disturbance is eliminated.  You don't have to worry about your partner sleeping restlessly or about waking them up when you need to leave the bed for a while in the night. Each coil is independent for another, so sitting on the springs would not dislocate anyone else.
The memory foam layer, in its turn, acts just like memory foam is supposed to. It reacts to your body heat and gives in under your weight. And let me tell you the memory foam is rather thick. You would sink in quite a bit before your body would hit the springs.
Such a combination is perfect for orthopedic use. The memory foam layer provides ultra-precise support.
The overall height of the mattress is eleven inches. The memory foam is gel-infused ,which prevents overheating due to the heat reflection.
If that sounds appealing to you, order this mattress on Amazon.com right now.
Pros: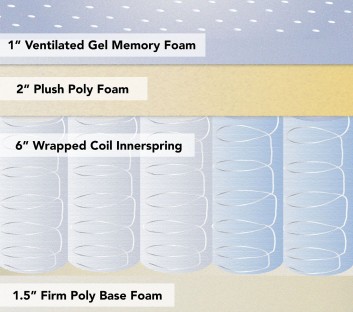 CertiPUR-US Certified
Hybrid memory foam/innerspring mattress
Perfect orthopedic support
Quilted pillow-top knit cover
Breathing mattress
Cons:
---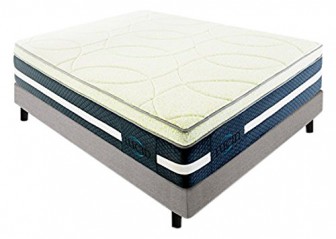 A thick mattress, if there is any. Sixteen inches is quite a bit.
Of course, thickness is not all as far as mattresses go, but it still is important.
This mattress is constructed of two layers of memory foam, a latex layer and a basic foam layer used as the support layer. And then there is a bamboo cover.
The top memory foam layer is infused with bamboo charcoal. Because of that, it is hypoallergenic and good at absorbing undesired scents, including the typical smell of a memory foam mattress.
The latex layer does not contact with your skin in any way. Its primary function is support (since it's firmer than the memory foam).
Since the mattress is thick, it should be no surprise to us that it is heavy as well. And because of that, it's very hard to move it around.
I don't recommend getting something thick to cover the mattress with. First of all, it comes with a cover as it is. Second, if you're separated from the memory foam layer too much, the foam will fail to react to your body heat. Without softening under the heat, the foam would be too firm and might make an unpleasant experience. Shouldn't be any issue if you follow my advice and only buy some thin sheets to cover the mattress with.
You might want to follow another advice of mine as well, and look up this mattress on Amazon.com to read the reviews other customers left.
Pros: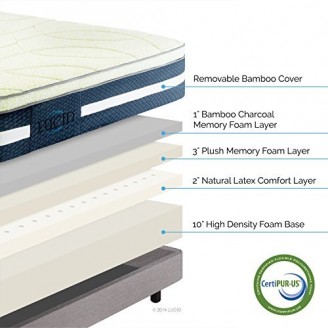 CertiPUR-US certified
Made in the U.S.A.
Hypoallergenic
Charcoal infused top layer
Memory foam/latex hybrid
16 inches thick
Cons:
Very heavy
Might fail to react to your body heat
---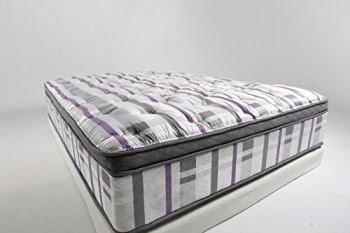 This is not a cheap mattress. It wouldn't be too much of a stretch to say that this is the most expensive mattress I've done a review on. A King Size mattress would cost you $1,300. And that's with all discounts included. Without them, the mattress would cost square $4,000. And the company claims their costs are kept low so that the price remained as low as it can be.
Low or not, that's still a lot for the average family. That's a very high price. So why would I include the mattress into the reviews?
Because the mattress is as perfect as a mattress can be. If it weren't for the price, I would give it the first place without second thoughts. Scratch that, I would have done a review dedicated to this mattress only.
Perhaps, you might object to me you only buy such expensive things offline. I am sorry to disappoint you, this would not work with this particular mattress. The company only sells it on the Internet. Therefore, Amazon.com is few of the places you can buy this mattress. Follow this link to do just that and acquire this handcrafted mattress for yourself… I failed to mention it earlier, didn't I? Yes, this mattress is handcrafted, in the U.S.A., no less. And it comes with a free trial period of 101 nights.
And I'm yet to begin to actually talk about this mattress's properties.
This is a memory foam/innerspring mattress. Price aside, this is the best mattress I can think of. The memory foam provides ideal comfort. The micro coils provide perfect support. This is the king of hybrid mattresses. And you will never regret getting it.
Pros: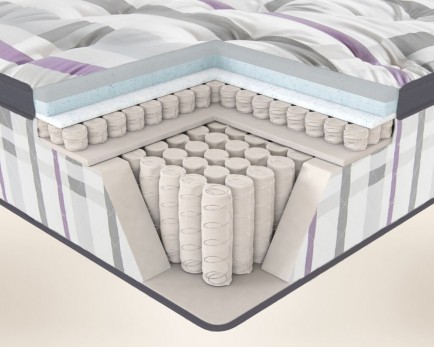 101 nights trial
Made in the U.S.A.
Handcrafted
Perfect support
Perfect comfort
No overheating
CertiPUR-US certified
Cons:
Very high price
Very heavy
---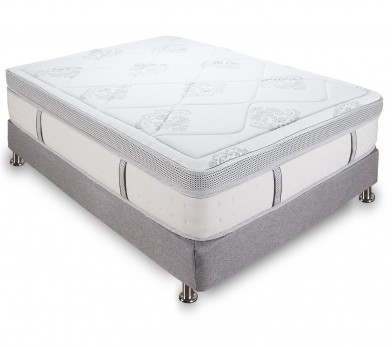 This mattress has 8 layers proper and one extra—a stretch-knit cover with quilting. That includes three memory foam layers (two of which are infused with gel), the innerspring layer, three comfort foam layers and a fiber layer.
The price is medium. Not quite cheap, but not as expensive as the previous one.
The mattress's overall height is 14 inches. The top memory foam layers are infused with gel to prevent hot sleeping. The innerspring layer is composed of individually pocketed coils. As you can expect, they eliminate motion transfer. It would be easier for you to shake up your partner yourself, rather than expect them to rise to your moving around.
What's important is that the edge is corded. Thanks to that, the edges don't collapse in a manner many other mattresses with pocketed coils do, which is certainly a boon. But that doesn't mean they don't collapse at all. The mattress's edges do give in under heavy people.
The mattress is very comfortable. But since it has some memory foam in it, there is a specific smell. It does go away, but not immediately. You'd have to air it out for quite a bit.
And yet, this is the best hybrid mattress in my opinion. You would do well to order this mattress on Amazon.com.
Pros: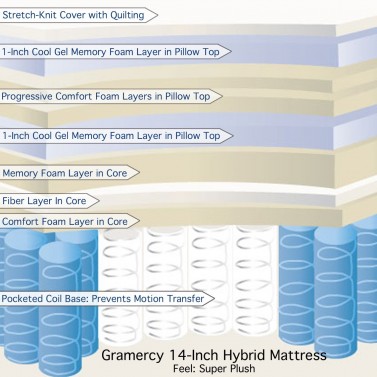 No motion transfer whatsoever
Straps around the base to pick the mattress up
Cool sleeping
CertiPUR-US certified
Smart packaging
Edge cord
Cons:
Odor
Soft
Edges do collapse under heavy people
---
Bottom line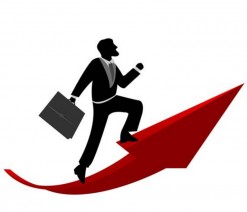 As you can see for yourself, every single hybrid mattress in this list is a combination of memory foam mattress and some other type. This not a coincidence. The most important quality of memory foam is the fact it can conform to one's body outline. No other technology does that.
Any other technology would be used as the foundation for the memory foam.
The hybrid mattresses are generally some of the best mattresses there are. The combine the best qualities of the mattress types. That's the idea. Of course, the downside of the mattresses sometimes shine through, but the general idea is mutual compensation of the drawbacks. And it works.