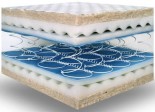 An innerspring mattress is something that should be familiar to anyone. They are old. I don't mean "old" as in "no longer manufactured", I mean old as in "invented long time ago". 19th century to be precise. That is one of the best things about innerspring mattresses.
Aren't spring mattresses outdated?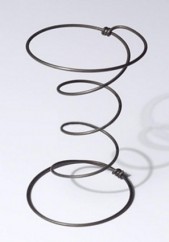 Not at all. They aren't. Just like any other product, they are gradually improved and their materials are better and safer with every year. They do meet whatever requirements the world of today might have for them. Mattresses with pocketed coils, also known as Marshall coils, have been around since early 1900-s but now they are considered some of the best.
And those are aplenty. Fire flammability standards (although, it's a major concern for highly-flammable materials, which coils made of steel or any other metal incidentally aren't), for one. Comfort. Support for the back. Relieving pressure points. No lumps. No broken coils that would bite into the sleeper's back.
And they certainly meet them. The best ones, anyway.

Why would I want a spring mattress?
There is a lot of different mattress types; that is true. Memory foam, air mattresses, latex mattresses, waterbeds, basic foam… But just like each specific mattress has its advantages and drawbacks, so does each type of them.

The main advantage of a spring mattress is that they have been tested by time itself. They came about as early as in 1800-s, and they are still around rather gone. But if you prefer more pragmatic features, rather than some historical references… Think about it: more time for a product to be around means more time for it to be improved. And, what's just as important, this also means more time for the process of its production to be improved. Meaning, the mattress becomes cheaper, since it's cheaper to produce. The manufacturer knows all ins and outs of such a product, every little detail.
So, the first advantage is the relatively low price.
The second advantage is a spring mattress is not allergenic. Usually, anyway. Just like with the best latex mattresses, there are very few artificially-produced materials required to make a spring mattress, but spring mattresses are cheaper.
The third advantage is that a spring mattress is always more durable than any other type of mattress of similar quality. As long as the springs are intact, the mattress is pretty much as good as new, and even if some of them break, they are replaceable, which makes the mattress itself repairable.
Superficial advantages
Those were serious, no-nonsense advantages we were talking about. But those aren't the only ones.
So let us list some more.
Jumping.
That's what any good spring mattress is good for. As a rule, people regard this as a drawback, really, and it might be, if your kids are a little too fond of jumping on your bed (or their own for that matter), but if it's something you actually want for some reason, spring mattresses would do the job.
Sex.
Well, that's quite personal, and not everyone likes that, and not everyone even, uh, uses a bed for that, but, still… Spring mattresses are the best choice for that.
Top 10 of Best Innerspring Mattresses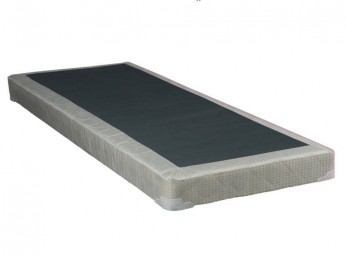 Today's list is opened with this innerspring mattress. It's not a hybrid mattress unlike so many mattresses I mentioned in my reviews, but it doesn't make it any worse.
The mattress is very comfortable. Not only has it perfect firmness, but also is orthopedic, perfect for people with any kind of back issues. The quantity of spring is not mind boggling, but it is decent, nothing to scoff at.
The mattress is a perfectly good one, but, unfortunately, there are some issues. One of them that the mattress is too thin, more so for some people.
It is not unbearably thin, it's just that it's 6 inches thick and it's a spring mattress. Still works fine, but there is a possibility you would be uncomfortable with it. That's only a possibility, it's not bound to happen. So feel free to visit Amazon.com and order this mattress.
Pros: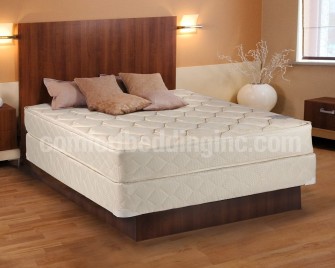 Price
Made in the U.S.A.
Ready to use
Orthopedic
Cons:
As misleading the name might be, it is still somewhat correct. If you happened to have a pet wolf, this mattress would be a perfect place for it to slumber.
Just kidding.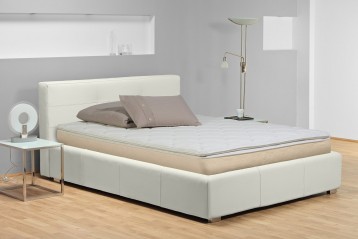 More seriously, though, it is a nice 9 inches thick mattress, produced by Wolf Corporation. It doesn't have too many coils, so that might be a bit of a disadvantage, except that the quantity is not exactly too bad. What's more important is that there is a padding layer one inch thick. And even if there were too little coils, you would still feel comfortable on it.
The size, however, might be a problem since the mattress is known for being mismatched occasionally.
The mattress is very comfortable in general, but it does not relieve pressure points in the same manner a memory foam mattress would. It does provide some support, but only some. And, as any other innerspring mattress, this one is prone to sagging. That doesn't mean it would necessarily sag, but the possibility is there.
If you do not mind that inherent drawback of many spring mattresses, don't hesitate and buy the mattress on Amazon.com.
Pros: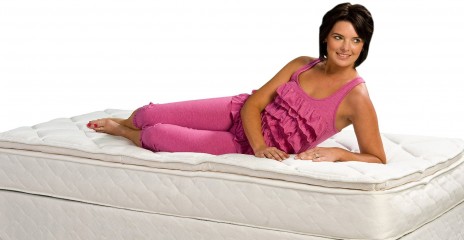 Made in the U.S.A.
Price
Comfort
Cons:
Can be too short
Prone to sagging


---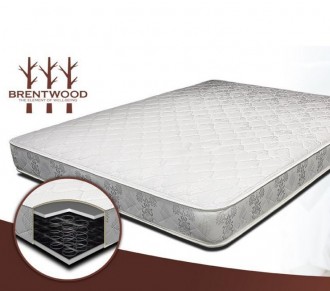 This is a firm mattress, and it's thinner than the previous one. Still, while it is both thinner and has not too many coils, it is a very good and comfortable mattress, like any other in the top list.
The mattress is shipped deflated and rolled, and thus it doesn't take up too much space, which is quite handy. Depending on the size (and the mattress comes in four of them), its weight varies from thirty to forty pounds, which is not that much, if we remember that it is a spring mattress. They are usually very heavy, because of the springs. As it is, however, the mattress is quite portable, well, as portable as a spring mattress can be.
The mattress has a quilted surface for extra plushness. Thanks to that, the springs are completely impossible to feel. If that's what you're looking for, make sure to look it up on Amazon.com.
In short, this is a perfect mattress for home, both as the main bed and a guest bed. The mattress can be rolled and stored away, although if you're planning to use it like that, perhaps, it would be better to acquire a futon or an airbed.
Pros: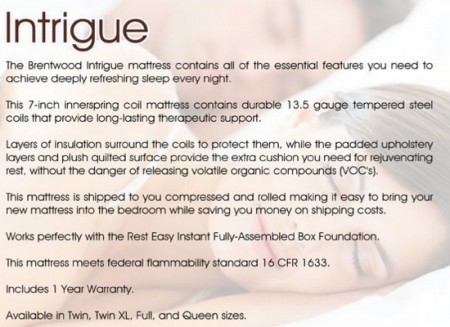 Meets federal flammability standard 16 CFR 1633
Shipped rolled
Extra cushion
Cons:
A thicker mattress, than the previous one. It also has at least three times more coils.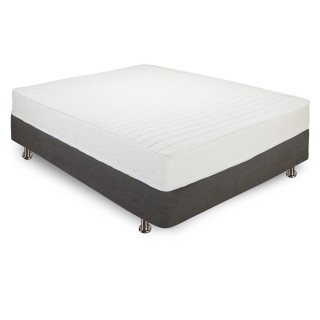 Now, the more coils there are, the smaller they are, and the support is all the better because of that. Of course, this mattress is really good for the back. Well, it might because of the fact every coil is wrapped individually.
The mattress is delivered rolled up and it takes some time and effort to extract it. Once it is extracted, it takes it a day or two to inflate completely. Of course, that's not possible with hard coils, and, and you can guess, the mattress is quite soft. If that is not an issue to you, you can order it on Amazon.com right now.
I would recommend this mattress for a guest bed. The reason for that is that it wears off very easily as long as we're considering best mattresses. I would not say it's broken easily, but the best way to use it is a guest bed. If long term use is potentially problematic, make it short term, and that's how any guest bed is use.
Pros: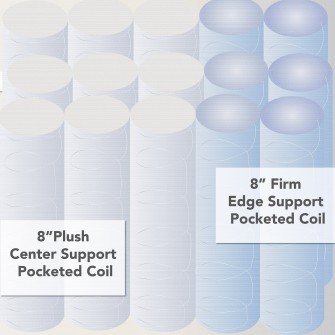 No motion transfer
Delivered compressed
Great for a guest bed
Cons:
The sixth place goes to this mattress. It is quite thick for an innerspring mattress. Not the firmest mattress of them all, it is still a good choice for those who have no back problems. It won't cause them, but would hardly help to remedy them as well. But if you're a healthy person, if your back is as good as it can be, you will be perfectly fine if you order this on Amazon.com right now.
The coils are not squeaky. They are also isolated to prevent motion disturbance. But, while the coils are supposed to be harder at the edges, they don't seem to be hard enough. The edges collapse under a person's weight almost as easy as in most other pocketed coils mattresses.
The mattress also has a natural wool layer. It's perfect to deal with any kind of moisture problems as well as to regulate body temperature.
Pros: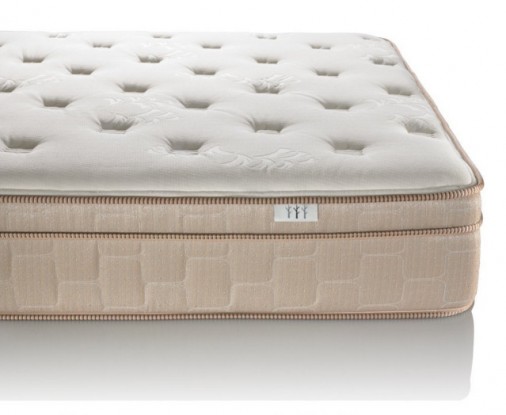 CertiPUR-US certified
Reduced noise
Reduced motion transfer
Relieving pressure points
Natural wool layer
Made in the U.S.A.
Meets federal flammability standards
Cons:
A hybrid mattress. There are plenty of those, but this one is a combination of gel memory foam and pocketed springs. A perfect marriage of two competing technologies, if you ask me.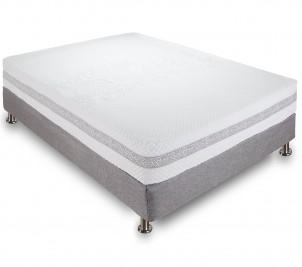 The pocketed coils are a perfect solution for preventing motion transfer between partners. They also provide perfect support for the back. That in itself is a reason to call a mattress good, but there's more than that.
The comfort layer is made of memory foam. Combined with the pocketed coils, it makes the sleeping experience even more comfortable than normal. The orthopedic qualities of the mattress become even more pronounced thanks to the memory foam proving ultra-precise support, specific to memory foam.
The mattress is 11 inches thick. It is more than many innerspring mattresses are, but let us not forget about the memory foam. It is far from thin, and you can sink in quite a lot before your body hits the springs.
The usual issue with memory foam is that it reflects body heat back at the sleeper. But this memory foam is gel infused, specifically for sleeping cold. So don't hesitate and make a purchase on Amazon.com.
Pros: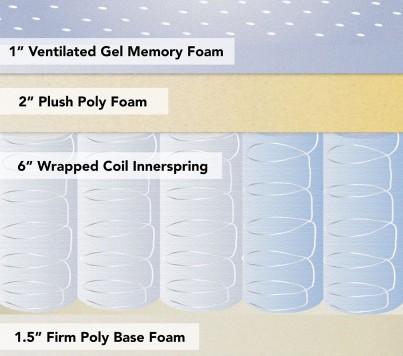 CertiPUR-US Certified
Hybrid memory foam/innerspring mattress
Perfect orthopedic support
Quilted pillow-top knit cover
Breathing mattress
Cons:
Not something you see every day. This mattress has a thousand coils.
Think about it. 1000 coils. That's a lot, folks. And the mattress is 11 inches thick. Three of them, however, are taken up by the pillow top made of Denier foam, so the height of the spring layer itself is reasonable 8 inches. The mattress, while it has pocketed coils, also has a border wire. So you don't have to worry about falling out of the mattress.
Of course, like any mattress with pocketed coils, this one is good at eliminating motion disturbance. The mattress is shipped compressed and vacuum sealed. It is relatively easy to move it around, but only as long as it stays packed. Even then, depending on the size, it can easily weigh over a hundred pounds.
As you see, that's a lot. Once you unpack it, the mattress will be much less easy to handle, so make sure to relocate it to where you need it before unpacking.
If you want a good reliable mattress, order this one on Amazon.com right now.
Pros: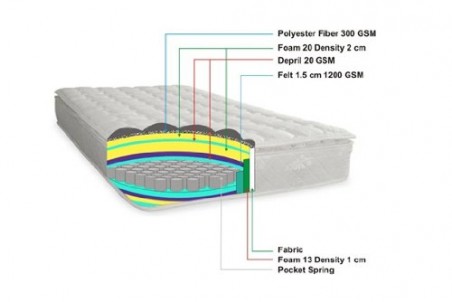 Low price
No motion transfer
Border wire to prevent falling out
Cons: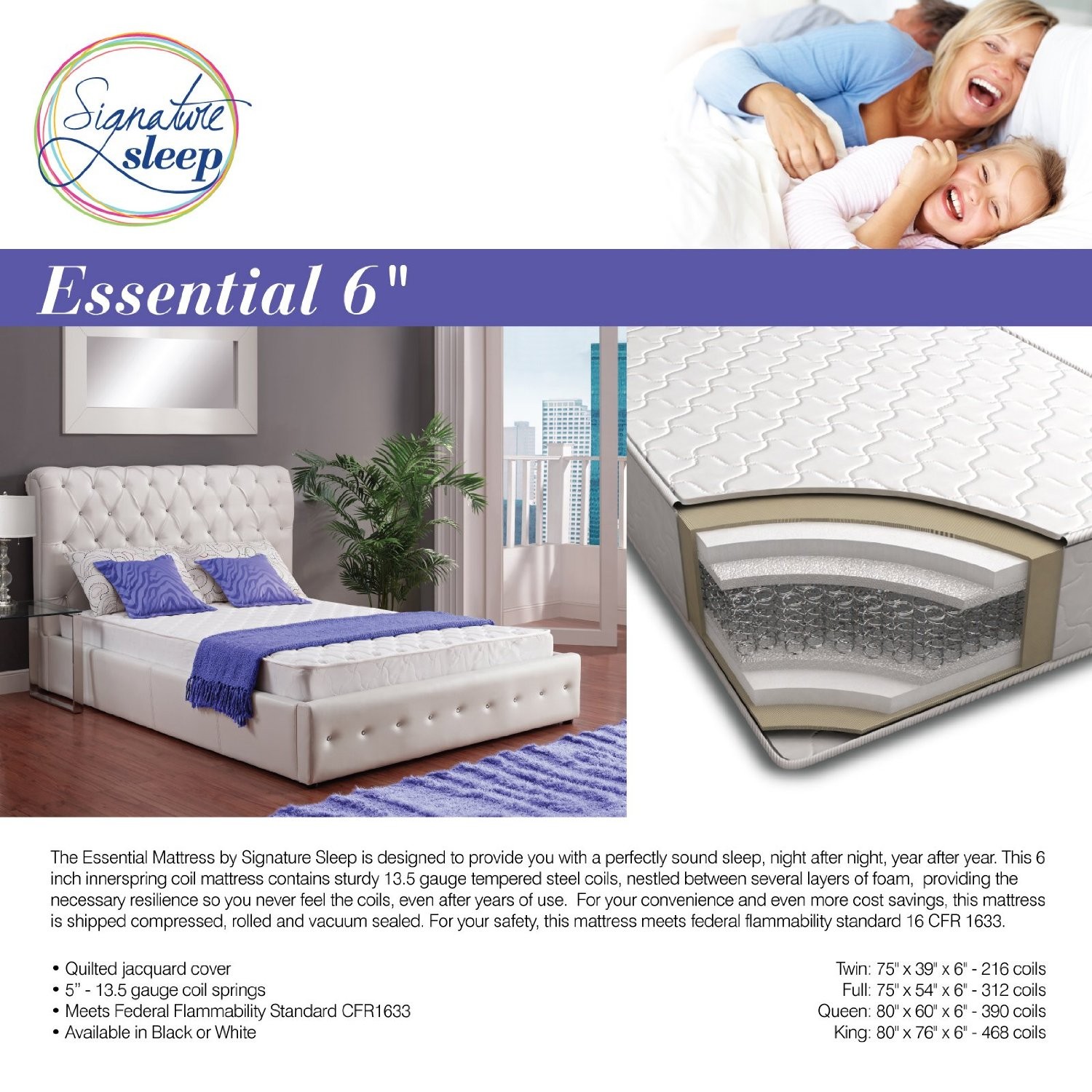 This mattress is not very impressive as far as the size goes. Actually, it has only two sizes: Twin and Full. And that's that. I've already done a review on it, so I'm not going to repeat myself (after all, that would be counter-productive), but some things still have to be mentioned.
The mattress has a cushioning foam layer so that you wouldn't be poked by the springs in the back. So don't worry about that. And besides, the spring would have to be broken for you to have it bad. They are literally too good to be broken like that. Thanks to their quality, they aren't even squeaky.
The main drawback is that it works fine only for more or less lightweight people. Kids would have no problems whatsoever. Adults, on the other hand… If their weight is average or above, there is an unfortunate possibility that they would feel the springs with their back. The comfort foam layer might be too thin for that. Nevertheless, the mattress is firm either way, even if you're a heavy person, you wouldn't sink into it too much.
By the way, did I mention the mattress is flippable? Well, it is. So it can be of use twice as much. Go ahead and buy it on Amazon.com right now.
Pros:
Not squeaky
Meets federal flammability standard 16 CFR 1633
Double sided
Cons:
Thin foam layer
May fail to support a grown-up properly


---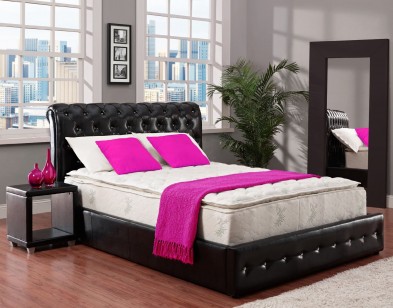 A very thick mattress. Despite that, it is firm and very comfortable. If you have back issues, you don't really have to worry. The mattress has a pillow top for additional comfort. Unfortunately, it cannot be flipped because of that.
The mattress has more than 600 pocketed coils. Of course, you don't have to worry about any kind of motion disturbance with that. Besides their number makes the mattress even more comfortable. And, of course, the coils are quite noiseless.
The mattress has a pillow top and that makes it soft. But be advised, while sort of soft-ish, it is firm still. So if you want a firm mattress, this one would work for you just fine. If you don't want a hard mattress, but would like some cushion, it would work for you just fine as well. So don't hesitate and read the reviews on Amazon.com. It's a good mattress to buy.
There is a little issue with the mattress's dimensions. It might be a tiny bit shorter than the specified size.
Pros: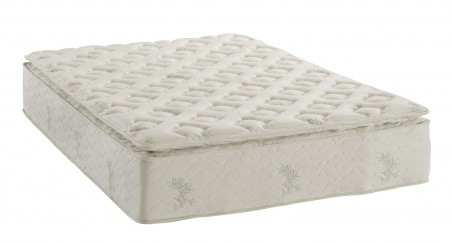 Low price
Bamboo quilted cover
Pillow top
Very thick
Noiseless
Cons: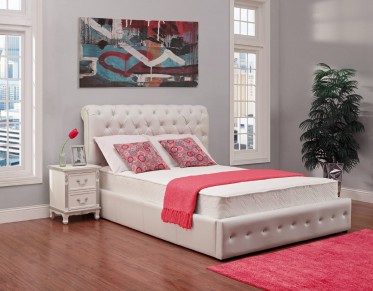 And this is the best innerspring mattress available on Amazon in my personal opinion.
I've already done a review on this mattress as well, and not even once. After all, it's no wonder a good mattress finds its way into many lists rather than just one. It is also the best mattress for side sleepers, by the way.
Maybe, the 8 inches is not all that much, but for a spring mattress, this is good. It all depends on how hard springs are, and these springs are quite hard. They do not give in too much unless you count the springs at the edges. They are not any softer than the other ones, but when someone is sitting on the mattress or lying at the edges, the pressure on those coils is higher, so that the edges collapse. Other than that? No issues, except the size and weight. But those two aren't really issues, more like drawbacks.
The mattress is also bouncy and has a comfort foam layer. You can buy this mattress on Amazon.com.
Pros: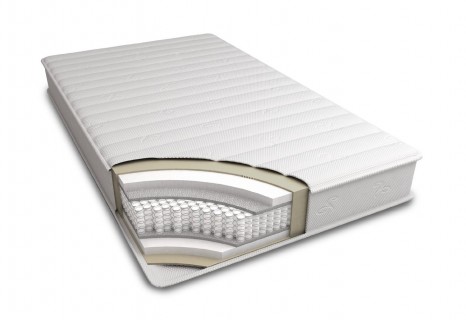 Meets Federal Flammability Standard CFR1633
Provides perfect support
Delivered to the door
Elimination of motion disturbance
Bouncy
Soft
Cons:
Heavy
Unwieldy
Edges give in


---
Bottom line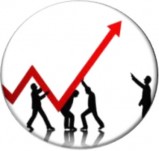 Innerspring mattresses are the oldest type of mattresses there are. But it doesn't mean that they are somehow limited. There are many innerspring mattresses, and many of them are hybrid.
As a rule, the best mattresses have some kind of comfort layer above the springs. Other than that…
Some mattresses are shipped rolled and vacuum-sealed. Some mattresses have isolated coils, which prevent motion transfer but give in more easily, especially at the edges. You expect you'd be sitting on your mattress a lot, perhaps, you should be looking for a mattress with intertwined coils.