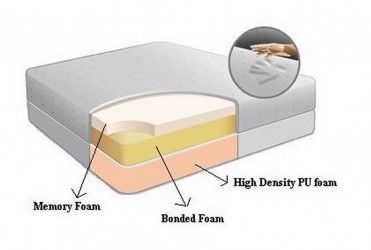 So you've come here, a simple question in mind, the question being, "What memory foam mattress would work best for me?" Well, that's what I think you think. Maybe I'm wrong. I'm not pretending to be a telepath or whatever they call them these days. Besides, as I write these lines, you may even be a high school student yet for all I know… Doesn't mean you can't be getting a mattress of your own long before graduating.
The thing is, you're on this site, and since you are, you want a mattress. And not just any mattress, but one that is best for you. That's reasonable. You wouldn't want to get yourself something only to get rid of it soon, or, worse yet, get stuck for years with something that was far from what you expected, but not quite far enough to return the darn thing.
You want the best one.
"But, hey," some people might ask, "is it even possible to single out a product like that?" As a matter of fact, it must be, so the real question is, should we do it? After all, all people are different, so what you want is probably not the same thing as what a neighbor of yours would like to have.
I cannot make a decision in your stead. I cannot make a decision instead of any visitor of this site. But what I can do is to provide you with all information necessary to make that decision. And that's what I'm going to do.
So… memory foam mattresses, was it?
What is memory foam anyway?
Since you're reading this article, it is not incorrect to assume, that you already know the difference between them and the other types of mattresses, like the best air mattresses and innerspring mattresses. There also are hybrid ones, but we'll get to that later.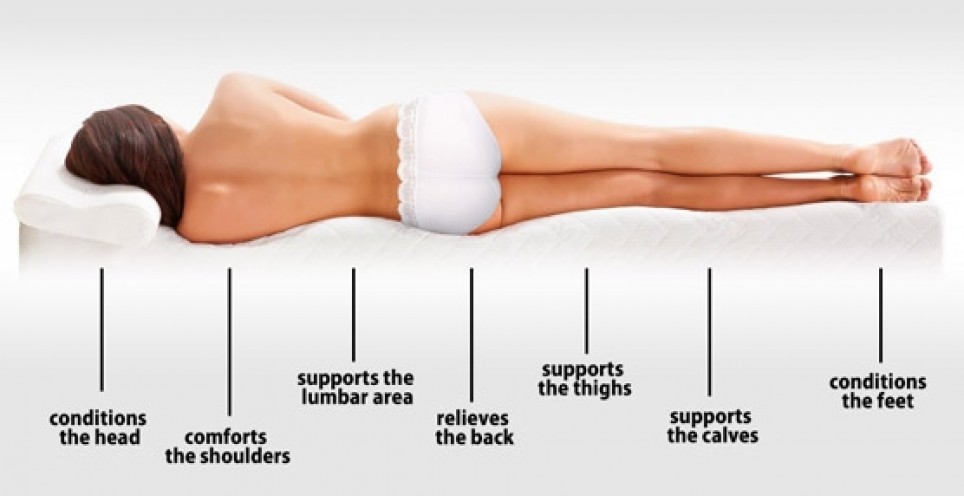 But in case you don't, in case you've just been browsing idly, let me tell you a little bit about what it is. For those of you who do know, just skip to the good stuff. Not that this section is bad in any way, mind you.
The key property of memory foam is that it is sensitive to body pressure and body heat. Thanks to that, it molds around your body, giving in just enough to provide support. Ideally, anyway. It hugs your shape tightly, relieving your muscles of tension, making you feel like all the stress is just going away… Yeah, I know. A good thing. But it all depends on the density of the foam. It may fail to respond to your body if it has a high density while you are not particularly heavy.
Memory foam mattresses come in many forms, they are designed with a lot of different things in mind, and their price range is quite vast. Memory foam pillows also exist.
To put it in more practical terms, whatever it is you expect of it, it's probably there. With the introduction of memory foam as well as other bedding systems in the recent past, the average sleep quality increased greatly.
A one-word warning before we begin.
Flammability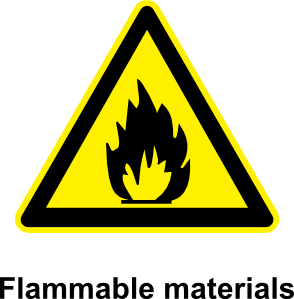 Memory foam is made of polyurethane. It's highly flammable by itself. Yes, there is such thing as state flammability requirements. But you don't want a lighter, a cigarette, a match or any other kind of heat source anywhere near your foam mattress! It is quite possible that your brand new mattress meets the flammability standards, you should actually expect it and have every right to complain should it be otherwise, however, there always is a freak possibility that it is not so. Do read what the cover says, even though it is illegal to sell flammable mattresses in the U.S. Your mattress may be soaked in flame retardants and there will be no mention of it, but it's better to err on the side of caution. If the packaging does have cautions about flammability, simply believe it without second thoughts. And report it. As little a chance of a foam mattress actually catching fire there is, this is serious business.
So, which one?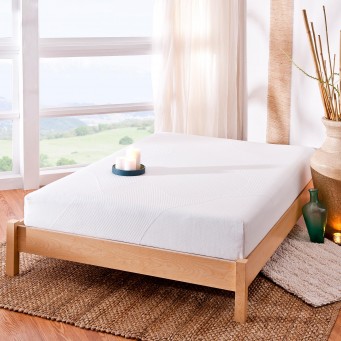 Memory foam mattresses differ greatly. Although the size and thickness are important, they are a trivial matter, something easy to alter. But one of the key parameters is the firmness of a mattress. It's something that just cannot be equally good for everyone. There are people who can only have a sound sleep on a relatively firm surface, they would choose the floor over a soft mattress any day. Then there are those who need more comfort, or, alternatively, those who are very light. They would want a better "give" from their mattress. Then there are those like to sleep on soft surfaces, but they feel like they're sleeping on bare boards, since their mattresses give in way too much, and they can feel everything underneath them.
The firmness of the mattress depends on the density of the foam. In layman's terms, the density can be described as low, medium and high. The higher the density of a mattress is, the more expensive it would be since more polyurethane would be used to make it. Keep in mind, though, that lower density mattresses cannot be considered orthopedic by any means. They are literally too soft for that. If you suffer from an orthopedic condition, you better get a firm, high-density mattress. While they may be a bit uncomfortable the moment you lie down on them, they warm up rather fast and conform to your body's outline soon after.
Odor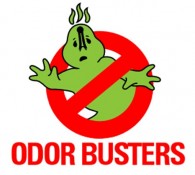 An issue that all memory foam mattresses share is their odor. Flame retardants seem to make the smell even stronger. The scent can even linger for weeks and months, but that's the absolute worst possible outcome. Usually, the scent fades away fast enough. A day or two is okay, sometimes, it's not even that long. But keep in mind, memory foam mattresses do smell funny when opened, you'll have to put up with that for a while. Or longer, if you're particularly unlucky. That's a known issue, and, as you can expect, one we'll take into account when suggesting the best mattresses. However, some people are especially sensitive to the odor. For them, even the best of the best might not be good enough. If you believe that you're one of them, you can either look up something else, like good old innerspring mattresses or give it a try anyway, since you should be able to have the mattress returned.
Decompression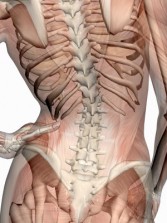 Aside from the time required for the smell to dissipate, it generally takes a mattress quite some time to decompress as well. And we're talking not just minutes, but, depending on the mattress, hours and days as well. The instructions might mention a certain period, but the mattress would usually decompress faster than that. Still, not immediately. The mattress is not ready for sleeping on it until it decompresses and takes the shape it should have, and that means that you should not expect to sleep on your new comfy foam mattress for a while. Which, of course, makes the whole odor issue more bearable. You wouldn't be there for it to attack your nostrils.
This is how you unpack and install your new bed:
The time you have to wait for the mattress to decompress, however, is the downside of its distinctive advantage: deliverability. Not quite as mobile as an air mattress, a memory foam mattress takes very little space initially. That's why you have to wait for it so long to expand. Memory foam, as the name suggests, "remembers" its form and takes it whenever released, but it's a slow process, more so for an unheated mattress. But thanks to taking up so little space, a memory foam mattress is easy to deliver. And, as you can guess, it costs less for you. Not an issue when the delivery is free, but it's not like that often, is it now?
Sometimes, your mattress is firmer than you expected. This may happen due to the fact it actually is firmer, but it can also be a direct result of your own actions. It's a good idea to follow the instructions. If they say that you shouldn't sleep on the mattress for some time after the delivery, then you probably shouldn't. If a weight is applied to the mattress even as it expands, there is a risk the mattress will not be decompressed completely. Which will render it stiff and less comfortable.
Top 10 Best Memory Foam Matrasses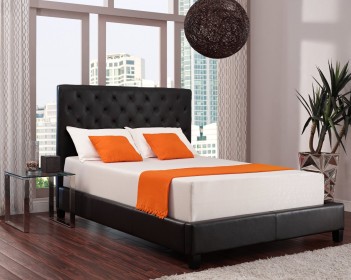 Comes in four sizes: Twin, Full, Queen and King. It is one of the most popular foam mattresses on Amazon, available since October 2012. As any other memory foam mattress, this one does have an odor, but the scent fades away completely in hours or even minutes. Despite the fact it disappears so fast, the mattress does have flame retardants and meets federal flammability standard 16 CFR 1633. Doesn't mean you shouldn't double check the package for any fire warnings.
This Signature Sleep's product is a high-density mattress, which means it reacts well to body heat and comforts to your body better than lower density mattresses, albeit it may feel a bit firm before it warms up. It is good for people with not just back problems, but with any kind of built-up muscle tension.
It is a good idea to place it where you want it the very moment you unpack it. The mattress is rather hard to move around once it has taken shape, and it has no handles to help you with that. Patience is advised as well. If you lie on the mattress before it takes shape, you're risking leaving a permanent sag.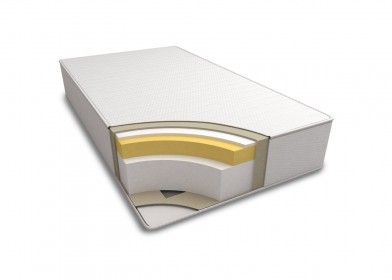 Pros:

Low price
Comfortable high-density foam
Comes in a bag easy to handle
Inflates relatively fast
Cons:
Hard to move around after inflation
Foam becomes softer in high humidity environments
Still thinking whether it's worth it? Check out 3,500+ customers reviews on Amazon.com!
---
If you're worrying about this being a quilt rather than a mattress, don't. The "Quilt" part in the name means that it has a quilting layer, 0.75 inches to be precise.
Comes in five sizes: Twin, Full, Twin Twin Combo, Twin Full Combo, and Queen. Available since November 2013, this mattress is very cheap. Not just inexpensive, but actually cheap. As of November 2015, the Twin mattress is under a hundred! Now that was something worth mentioning. And, just like the other one, this mattress meets federal flammability standard 16 CFR 1633 as well. But unlike it, it's made in the U.S.
One should expect that a low price means a low quality as well, but for a lot of people, this is not the case. Maybe, you shouldn't expect a luxurious sleeping experience for such little money, but as long as you're realistic about what you're going to get for the price, you will be pleasantly surprised. In fact, this mattress isn't even a true memory foam one, yet it's good enough to be mentioned among them.
Aside from being very comfortable, this mattress comes to its full size in hours. The Queen-size mattress is just under 50 lbs, and the Twin-size is a bit over 20. How's that for light? And it's almost odorless.
A warning! The mattress tends to soak fluids, which then stay there, and that includes sweat. If you believe you sweat a lot, it is possible that you would not like the eventual results of sleeping on the mattress. It would be better to put something between the mattress and your body if you do obtain it.
Pros:
Cons:
Soaks fluids
A bit too soft for a firm mattress
Not a memory foam mattress
If you are don't mind getting a plain foam mattress rather than a memory foam one, check it out on Amazon.com!
---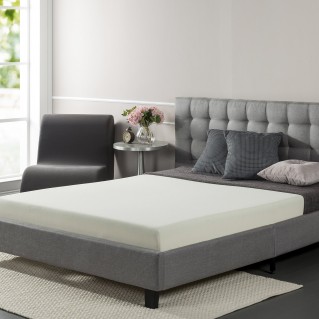 A high-density two-layer mattress from Zinus available on Amazon since August 2011. Comes in seven sizes: Twin, Twin XL, Full, Short Queen, Queen, King, and California King. It's not the cheapest choice, but it is not expensive either. The price is rather reasonable, and it's a good way to spend your money. CertiPUR-US certified.
The mattress does not smell much and inflates in 48 hours. However, it should not remain packed for more than 72 hours. Do take the shipping time into account, otherwise, you might have a nasty surprise in store for you.
This mattress, as any high-density mattress, seems a little firm at first, but once it warms up, you literally sink into it. It won't take you long to fall asleep, with this mattress, you won't be tossing around just to find the right position for sleep. Any will do! If that's sounds great to you, then don't waste your time and check its status on Amazon.com right now.
However, while the second layer of support foam may be an added bonus for some people since that makes it comfortable on the floor, the other could have an unhappy experience with it. It is possible that you will find yourself feeling the support foam through the memory foam. In that case, you could actually be far from satisfied. There's also a possibility of heat-traps.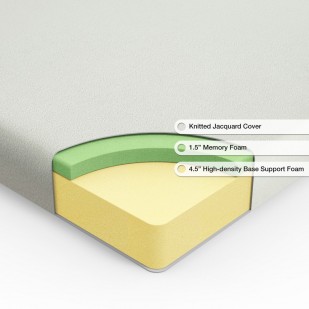 Pros:

Low price
Easy to set up
Inflates relatively fast
Comfortable on any surface
CertiPUR-US certified
Cons:
Possibility of hot sleeping
Thin memory foam layer
---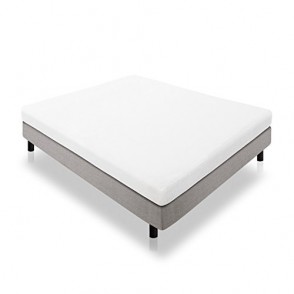 The price is not one of the upsides for this mattress. It is not a mind-bogglingly expensive purchase, it is quite affordable in fact, but it is not even remotely cheap… not without discounts, anyway. It's quite possible to save hundreds of dollars when buying it. To make sure you can pull it off, check its current status on Amazon.
Comes in five sizes: Twin, Twin XL, Full, Full XL, and Queen. Available on Amazon since September 2014. A relatively new product for the store, but one that has already been well-received.
That's a gel memory foam mattress as the name suggests, and… well, it says it all. With a gel foam layer, you don't have to worry about sleeping hot unless that's a very typical issue for you specifically.
However, this mattress is far from odorless. You'll have to vent it for two days at least, just like the instructions say.
It's rather thin and might be confused for a topper, but the fact is, it really is a standalone mattress. Like almost any other memory foam mattress, this one is not supposed to be portable after it has been set up, but in fact, being 5 inches thick, it can be easily moved around. However, it's better to use it with a bedframe.
Comfortable firm gel foam
Portable after set up
Cool sleeping
CertiPUR-US certified
Cons:
---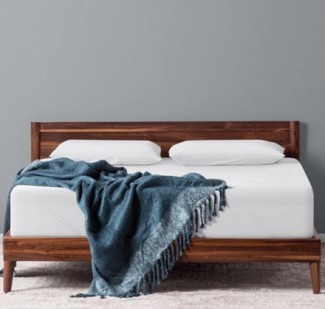 Comes in six sizes: Twin, Twin XL, Full, Queen, King, and California King. This not quite lightweight mattress made in America is available on Amazon since November 2014, but it's already been received even better than the previous one. It cannot be described as either perfectly soft or perfectly firm, being the average. If you're not sure whether you prefer sleeping soft or sleeping firm, the average should work for you.
This mattress is good not just for sleeping, but for sex as well. It's bouncy, but despite that, you would not disturb your sleeping partner while getting off the bed, since all the movement is localized. It'll be even easier since the sides are a bit sloped. However, that particular detail might make staying in the bed somewhat challenging if you're a restless sleeper.
Be sure to unpack it where you want it, as it inflates really, really fast.
Pros: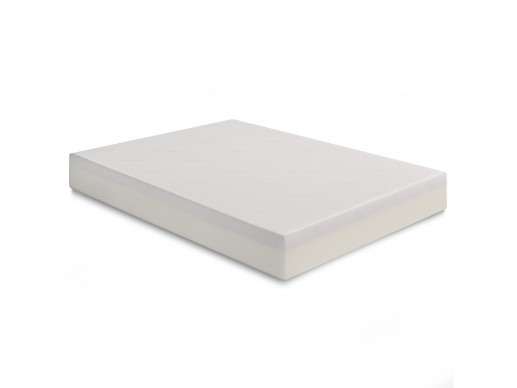 Relieves pressure
Cool sleeping
Good for sex
Near odorless
Inflates super-fast
Made in the U.S.A.
Cons:
Sloped sides
Does not conform to the body perfectly
Not a memory foam mattress
This mattress is quite popular and it is not unusual for it to be out of stock temporarily. To make sure it is available at this moment, check its status on Amazon.com!
---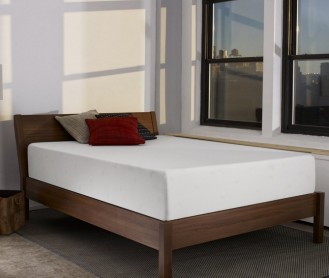 Comes in five sizes: Twin, Full, Queen, King, and California King. A rather old offer, available on Amazon since May 2010, but that only means it's a trustworthy product. Whatever long-term surprises there might have been, they all should have been found a long time ago. And… there aren't really too many drawbacks.
This is a perfect medium memory foam mattress. It's not designed for people smaller than average, although there might be those of them who'd find it comfortable nonetheless. But, anyway, it is a good choice for people with an average or a big build.
While the mattress is two-layered, the top layer is 2.5 inches thick. That's quite comfortable, although probably not as a stand-alone option. But let us not forget about the bottom 9.5 inches thick layer of support foam.
The mattress is a bit firm, but it conforms to the outline of the body nicely. There is a possibility, however, that the top layer will become softer after several years. But know this, in case it's been less than 20 years since it's been in use, that is a breach of warranty.  You have every right to replace it. If you want to. After all, the mattress is indeed firm. Not something you want if you're a restless sleeper. While it does cradle you, it takes it some time to give in. But if you don't toss at night, this is a perfect purchase. You can buy it on Amazon.com.
The odor issue is there, but the scent goes away after a few days and becomes bearable a little earlier. Heat traps are just as likely to be an issue as not. This bed shouldn't be called the number one choice for those who like to sleep cold.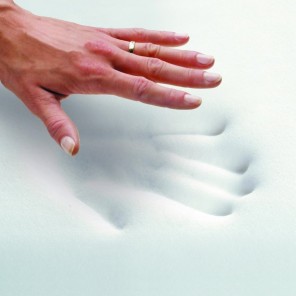 Pros:
Thick memory foam layer
Comfortable on any surface
Made in the U.S.A.
Cons:
Can be too firm
Can grow soft after some time
---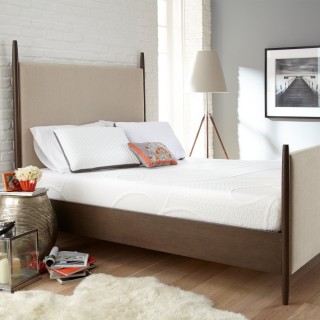 One word: expensive. Not quite a luxurious kind of expensive, but expensive still. Comes in five sizes: Twin, Full, Short Queen, Queen, and King. Available on Amazon since April 2015.
It doesn't just have a thick 2.5 inches memory foam layer, its support layer is made of unique support foam. Made in the U.S. and CertiPUR-US certified, this is a mattress of the highest caliber in its price range. This mattress is rather heavy due to its density, but unless you were planning on moving it around, this shouldn't be too much of an issue.
If you're planning to move out, but would like to buy a mattress, it still would be a good choice for you.  You don't have to unpack it immediately after the shipment, in fact, it's perfectly okay to wait for a couple months. And that's why you don't have to wait and check it out on Amazon.com right now.
If you believe you'd have to buy a cover for the mattress, think again. True for most other memory foam mattresses, it is, however, not the case for this one. Perfect Cloud Supreme comes with a removable cover.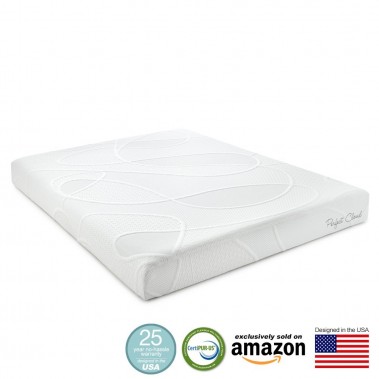 Pros:
Highly comfortable
Easily removable cover
CertiPUR-US certified
Made in the U.S.A.
Cons:
High price
Hard to move around
---
Comes in just 2 sizes: Full and Queen. But, unlike many other mattresses, this one, available on Amazon since October 2007, has the support foam thinner than the overall height of the mattress. It has a three inches memory foam layer, a 2+2 inches Dual AirFlow layer and a three inches support layer.
You can't get hot on this mattress. It is specifically designed to fight the heat. But it's a firm mattress and it is possible that you will find it uncomfortable. Unless that's what you want. In that case, make sure it's still available on Amazon.com.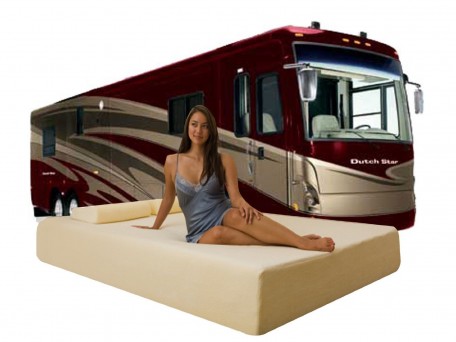 It is suitable for camping, as the name suggests. Doesn't mean it's easy to move around, but its thick base allows to place it on any surface.
Pros:
Easily removable cover
Comfortable on any surface
CertiPUR-US certified
Cool sleeping
Cons:
Can be too firm
Hard to move around
---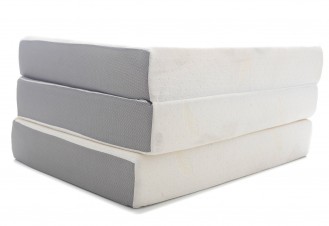 Comes in three sizes: Twin, Full, and Queen. Available on Amazon since June 2013. Unlike the previous one that can be used for camping, this mattress was specifically designed for it. In fact, it might as well be a camper's primary choice.
Usually, you'd expect something more… collapsible as a choice for campers. Like, an air mattress. Certainly not a rigid memory foam one. Right?
Well, usually you would be right. But this mattress folds. The name has got it all. And that's how it qualifies for camping. You shouldn't expect to put it into your backpack with little to no problems. In fact, you'd have a great deal of them, had you tried to do just that. But if you don't travel on foot? If you prefer your car? Well, in that case, it's just the thing for you. It doesn't have to be a van. You don't need it, not with this mattress.
It is not a mattress to sleep on every night. It's made portable, it's made for traveling with it. Alternatively, you can unfold it if you have guests staying at your home for a sleepover. But despite its portability, it is still hard to handle. When folded, it's a fairly big cube.
It is a soft mattress. That means it can be too soft for you although it is not soft enough for your spine to touch the ground.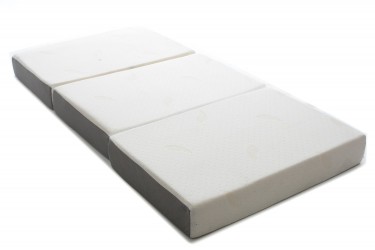 Pros:
CertiPUR-US certified
Ideal for camping
Good choice for a sleepover
Cushy
Cons:
Not a good permanent bedding
Can be too soft
If you want a folding mattress, this one is just the thing for you. Check it out on Amazon.com!
---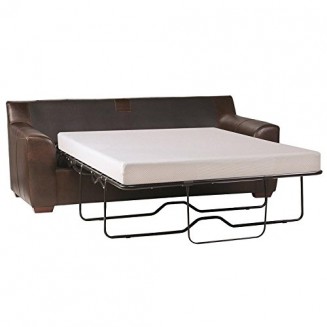 Hard mattresses, soft ones, folding ones… We've seen it all, haven't we?
Not yet.
Here's yet another mattress, and this one is designed for sleeping on a sofa. And, no, you don't have to do anything to the sofa to put the mattress on top of it. The mattress has a metal frame, so you only have to put the head of the mattress there.
The mattress is made of BioFoam, and, compared to the other types of foam, this one is a breakthrough. It is the best choice for those who don't like unpleasant odors since it has green tea extract and active charcoal to deal with them. These components not just prevent the mattress from smelling too bad, but actually absorb smells and moisture.
However, do not forget to unpack your mattress within 72 hours after the delivery. It is not one of those mattresses that would stay packed for months with no harm to their shape.
It's a gel memory foam mattress, so you should expect it to be rather cool in the night. If you prefer to sleep cold, this is a good choice. If a sofa mattress sounds good to you, go ahead and get yourself one on Amazon.com!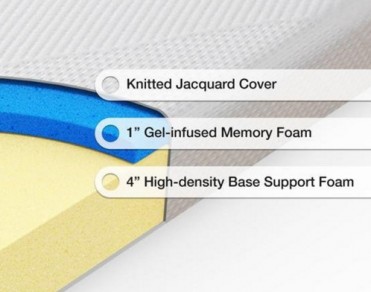 Pros:
Can be used for sleeping on the floor
Eliminates odors
BioFoam keeps the mattress dry and fresh by means of absorbing moisture
Cool sleeping
Cons:
Not designed for a bed
Has to be unpacked soon after delivery
---
Bottom line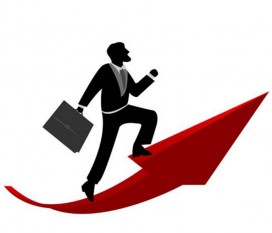 Most memory foam mattresses smell. There is nothing you can do about it, but what you can do is to wait. Or you can air them out as well, it works just fine. But if you really, really, really hate the smell, you may want to have a look at item 1 again. I wouldn't say there is no smell whatsoever, but it's really faint, and it's a good kind of smell. Not chemical at all. The downside is that it's not really designed for a bed. It has rather limited uses. But, perhaps, that's what you want?
Items 2 and 3 also have their special uses. They are both designed with camping in mind, but item 2 is designed for portability specifically, and it's not a good permanent sleeping arrangement, unlike item three.
It is possible, that you are not going to move your mattress around. Ever. In that case, you'd want something different.
You don't want a soft mattress if you have back pains. You want a firm, high-density memory foam mattress, one that will cradle your body, contouring you. But if you're a stomach sleeper, you might be disappointed. While memory foam does conform to one's body, it might not be soft enough for your liking. If that is so, you really should get a soft mattress.
If you plan on moving out soon, make sure to get yourself a mattress that can be left unpacked until after you move in into your new home. Item 4 will work just fine.