Synthetic Sheets vs. Organic Sheets
It goes without saying that many people don't trust synthetic fabrics to be just as good as organic ones. "Polyester vs. cotton sheets" is a very old debate. However, this topic is far more controversial than you would think. For starters, synthetic is guaranteed to be cruelty-free, and that little cruelty that might still be involved is strictly within the responsibilities of OSHA, not PETA. Wool, on the other hand, may not be, even if the sheep survive the ordeal.
Also, there is a reason synthetic fibers were invented in the first place. On the other hand, even the best polyester sheets are not breathable, unlike even the cheapest cotton sheets. This review will, hopefully, help you to find what you need. While poly sheets cannot compare to the best cotton sheets, they have their own advantages.
The Reason to Choose Polyester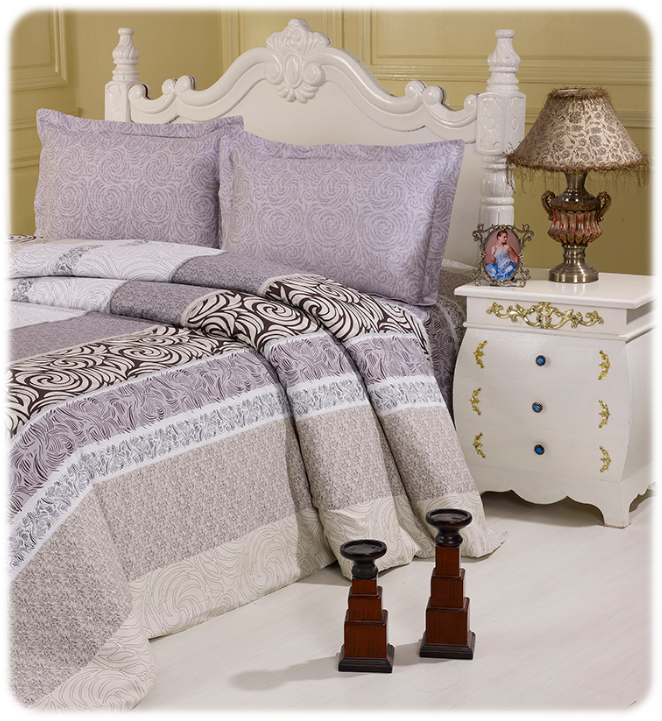 Synthetic fabrics are cheap. They are expendable. And that is one of the most important reasons for anyone to buy them. They cannot boast the warmth of flannel, the luxury of silk or the combination of price and comfort cotton has. But they are some of the cheapest sheets you can find.
If the idea of sleeping on polyester sheets don't bother you, well, you might as well try them. After all, I doubt you can find synthetic sheets over a hundred dollars. 100 is the limit when it comes to polyester, even microfiber. Any more than that, and you know someone's trying to dupe you.
Top 3 Best Polyester Sheets
A 100% polyester flat sheet. That doesn't sound like a boast, but hey, it's the truth. As expected of a such a sheet, it is not expensive.
Though this sheet is made from polyester, it is brushed and rather warm, as far as synthetic sheets go, at least. What's more important, it does not wrinkle. That makes perfect sense, after all, polyester is often added to natural fibers to reduce the fabric's ability to wrinkle. And this Cathay sheet is made from pure polyester.
The sheet is very soft, cool to the touch and quite silky. As expected from a high-quality product, it is also durable. Washing it is no problem at all, just throw it into a washing machine, and that's it.
If I had to describe it in a single phrase, I'd say this: a budget flat sheet for those who like flannel. While obviously not flannel, it is very similar to it, aside from the fact it's wrinkle-free and does not pill nearly as much as real flannel.
Pros: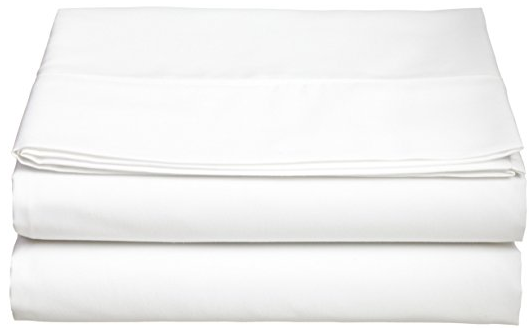 Price
Warm
Soft
Pilling resistant
Wrinkle resistant
Easy to wash
Cons:
---
If you expect that a synthetic fabric simply cannot be breathable, I have a pleasant surprise for you. This Microfiber Luxury Sheet Set from Where the Polka Dots Roam is breathable. That is possible due to the unique structure of the fabric in these sheets. How can that be? That's a simple question to answer. It is made from microfiber rather than threads of polyester. As a result, it's softer than even cotton sheets with a high thread count and even more breathable than them. That said, its breathability is very different in principle.
Nevertheless, the price is as low as with most synthetic sheets. Surprisingly so, after all, this is a set, not a single sheet. But that's even better. The set comprises of a single flat sheet, a couple of pillowcases and a fitted sheet suitable for mattresses up to 16 inches.
What's the catch? They can and will pill. Not quite as much as natural fabrics, but it is inevitable. At least they don't wrinkle. And, if you want thick sheets, I have to disappoint you, as they are rather thin, although not see-through.
Pros: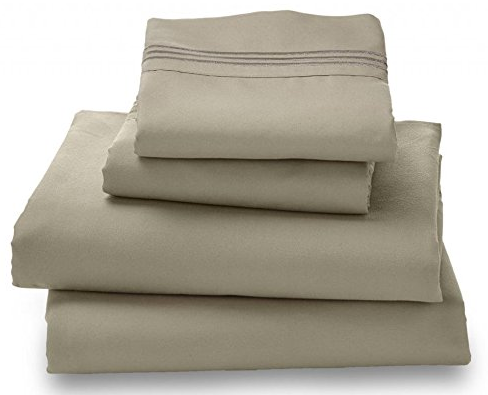 Price
Warm
Soft
Breathable
Wrinkle resistant
Easy to wash
Cons:
---
If I said that the Mellanni Bed Sheet set was iconic, that wouldn't be an exaggeration, not in the slightest. If you ask me what bed sheet are the best regardless of the fabric, I will bring up this set. There aren't enough words to describe it.
You must be thinking I'm overly melodramatic. I realize I may sound like I am. However, it is only because these sheets are just that good. First of all, the price. It's low. Not as low as that of some other synthetic sheets but still low.
Imagine a cotton sheet with the thread count of 1800. Now, this particular set is pure polyester, but its softness and density are comparable to such high-quality cotton. It comprises of a single flat sheet, a deep-pocket sheet suitable for mattresses up to 16" and a pillowcase, but that's for the Twin Size sheet set. The set comes in five more sizes, four of which include two pillowcases, and 36 color schemes. Yes, that's right, 36. It is no wonder more than 16,000 people have already rated this product. Perhaps, you already have it?
If it weren't for the price, I'd say it was a luxury sheet set. As it is, it is simply a set of high quality silky and comfortable sheet you'll never regret buying.
Pros: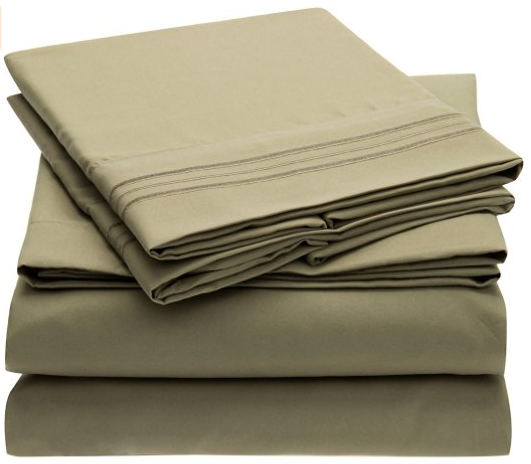 Warm
Soft
Silky
Breathable
Wrinkle resistant
Fade resistant
Stain resistant
Easy to wash
Elastic on all sides for the fitted sheet
Cons:
---
Bottom line
Even though many high-quality polyester sheets are breathable, this is not the same kind of breathability you'd expect from a sheet made from organic fibers. There's a possibility you will not find the sheets comfortable. The only real advantage synthetic sheets have is that they barely wrinkle. However, that is not enough.
If your goal is to save money, go ahead and buy one of these. There are some good ones after all. However, if you want to enjoy your bed, I would recommend something more high end.