Everyone likes comfort. I don't really know anyone who wouldn't, although I do realize that such people are bound to be out there. Not that any of them are reading this article.
Either way, I most certainly like comfort and so do you. That's why you're on this site. Comfort is important. Especially during your sleep. I don't exactly like waking up sore and cranky and angry and still half-asleep. And, as I guess, neither do you.
But, while everyone likes comfort, is it really always possible to get it anywhere? What about sleepovers? What about camping? Trekking? What about renovations, when your bed is there but just isn't available?
Of course, there is an answer to that, and you know it already. I don't even have to say this. But I'm going to anyway, for the sake of consistency, if nothing else.
An air mattress.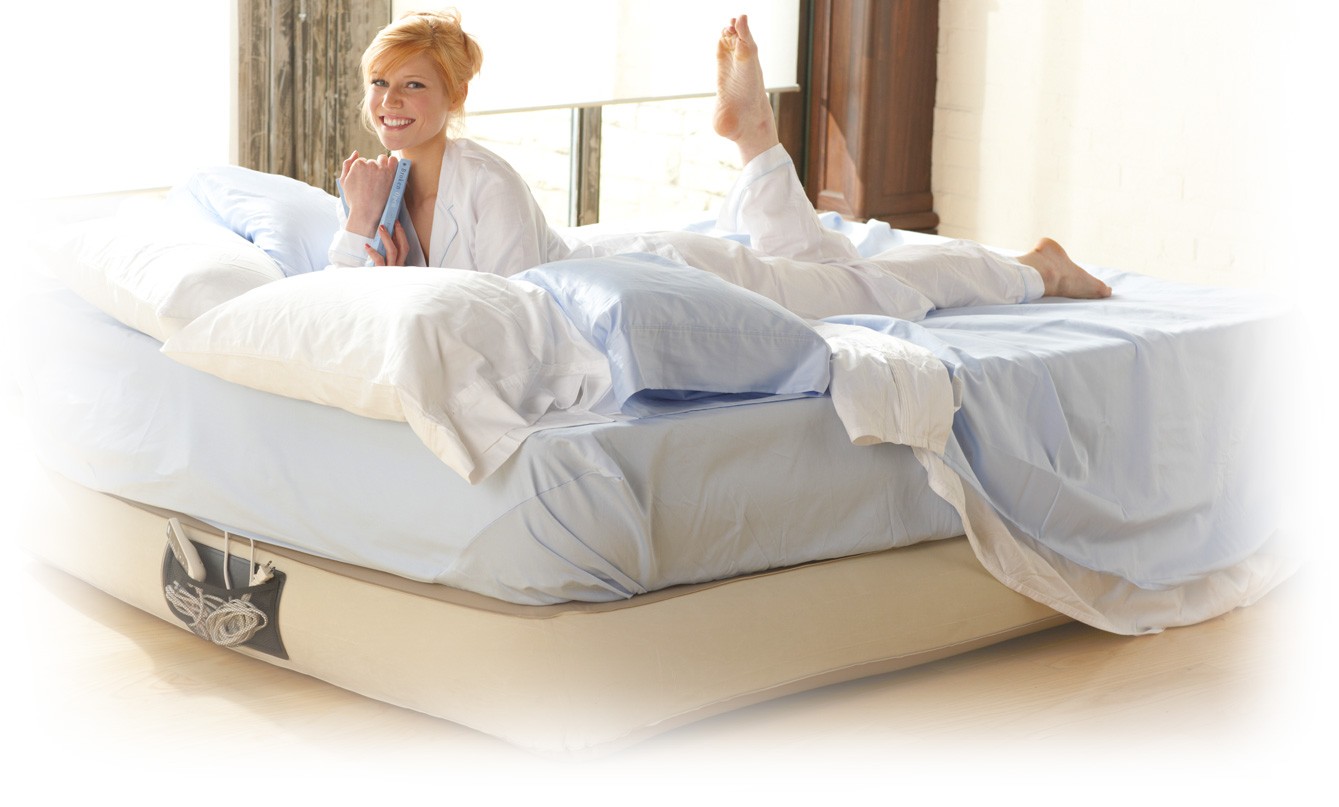 A hundred years ago, you and I would say "Tough luck," if someone had complained to us about how they were going to sleep out of their comfy bed for a long while. Or how they were ashamed of not being able to invite guests over since they had no extra bed. But today, with the introduction of airbeds in 1980-s? They are the answer we all are aware of.
I didn't expect this to be a revelation to you, so I'm definitely not stopping here. You already know about air mattresses. That's great.
But… what is it you know about them? Do you know everything you would like to know? Can you pick the best air mattress, not just the most expensive or the cheapest?
Thought so.
'Kay, what's so special about them?
The key distinction of air mattresses is that they are not usually designed for being put on a bed as most other mattresses. They are made portable and standalone. Yes, there are, for instance, portable memory foam mattresses (like Milliard Memory Foam Tri-fold Mattress), but while you can bring them wherever you go, you can't do that without extra effort. Not so with an air mattress.
An air mattress is compact. An air mattress is supposed to be stored deflated and inflated only when needed. An air mattress is not supposed to be the main bed, although they might very well be used that way, too. But be extra careful! You know very well that an air mattress is extremely vulnerable to pointy things and pets' teeth and claws. Don't get me wrong, air mattresses of today are made sturdy, they can take a lot of punishment compared to air mattresses of old, but once you do damage them, this is it. Of course, you may use a patch kit to repair such a mattress provided you got one.  That's how it should be done:
But not every puncture can be sealed and the fact stands: a punctured and unrepaired mattress is out of service. That is their major downside, one that is rather obvious. This downside makes them a less than ideal choice for a permanent sleeping arrangement.
Can I use one as my main bed?
While I might mark some mattresses as fit for long term use, keep in mind that they simply are not designed for it. When I say an air mattress is suitable for long term use, it means it handles that fine in practice. Not that it should be used that way.
I said it once, I'll say it again: they are not designed for being anyone's main bed.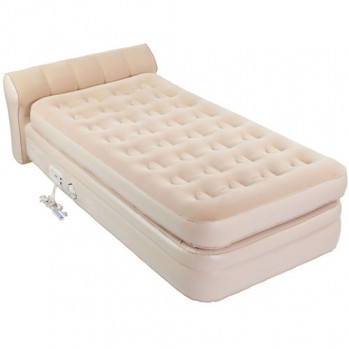 There is a most unpleasant possibility that your air mattress would leak air. That is the reason why you only should buy the best air mattresses. If you get yourself an innerspring mattress, and there is something wrong with it, you only going to find yourself stuck with a mattress you don't really enjoy to the fullest. If you get yourself an air mattress that leaks, you may find yourself dozing off on the most comfortable thing imaginable and then waking up on the hard floor.
Less obvious issues include the dependency of an air mattress's firmness on air conditions as well the state of its material. But it's really something that just springs to your mind once you remember how the pressure of a gas depends on its temperature and volume. See what Wikipedia has to say about this. In this context, the air conditions are self-explanatory. As for the material of the mattress, it is susceptible to thermal expansion as well, which means, the volume of your mattress may be something of a variable. Besides, when you inflate the mattress for the first time, the plastic or whatever material it is made of is yet to stretch to its optimum. The mattress will not be fully inflated, not until you apply your body's weight to it and inflate it again or keep on inflating it.
What does this mean for you? It means that you may be worrying because of leaks that just aren't there, while there is no reason to. You'll just have to inflate (or deflate, if you prefer a softer mattress) the mattress you're using if you feel its firmness has shifted. It's only a bother rather than an issue, but if that's too much of a bother for you, you can get a mattress that would keep the pressure needed automatically. Sure, it's only a big bother when you're using the mattress long-term. And they are not supposed to be used like that in the first place.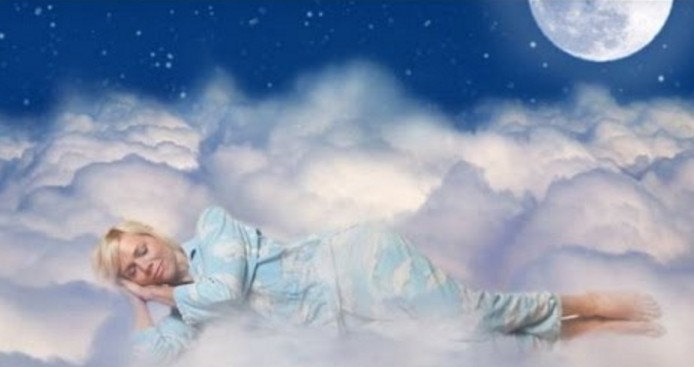 But do remember that an air mattress retains air for a limited period of time, although it should never be too little. You should also be very cautious as to not let your babies sleep on an air mattress since that can be very dangerous.
Air Mattress and Temperatures
If you like to sleep cold, an air mattress is what you want. They are much colder than a foam mattress or even the best innerspring mattress, but water beds may be just as cold if not colder. So if you want a snuggly comfortable warm bed, you should probably reconsider buying an air mattress, although even an air mattress would always be warmer than the naked ground. Initially.
If you plan on using it for sleeping outside, it would keep you warm, compared to most other sleeping choices. It would keep you even warmer if you get a mattress topper with it. But, remember, not by much. An air mattress is a heat sink that exchanges heat with the air in the tent. If you want to use it in winter… Don't. Or, at the very least, make sure you have good thermal insulation.
Now, that said, let us review Top 10 air mattresses.
Top 10 of Best Air Mattresses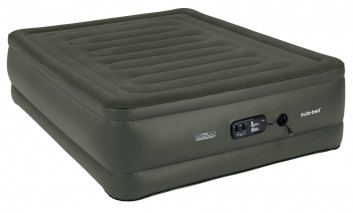 A word of warning first.
As any other, this air mattress is not designed for long term use. If you have been keeping it on for months and then suddenly noticed it grew much bigger, know that that was to be expected. In fact, if you did just that, you were pushing its limits considerably. This product can only handle 7 days of constant use. If the pump is on for longer, the mattress would stretch ever so slightly until it would not fit its original Queen size anymore. As you can guess, thinning out would make it also less durable.
A major drawback, sure, but as long as you don't plan on making it your main bed and keeping the pump on, you should be fine. After all, this mattress can hold the pressure for 5 days without the need to pump it. By the way, in the case electricity is out of reach, you can pump it manually. You can also pump it manually if there is a pump failure, but remember that a pump failure is covered by the warranty, as are leaks.
It takes the mattress no longer than 14 minutes to inflate.
It is quite comfortable and it's got two chambers that can be inflated separately. A well-known issue with this mattress is that people may "sink" in the middle of it, but this can easily be fixed by underinflating the ridge.
The mattress is very bouncy, as to be expected of an air mattress. That can make sleeping with someone else a bit of a challenge because it's rather hard not to disturb your sleeping partner.
Pros: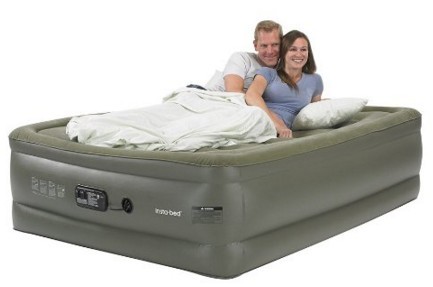 Comes with a carry bag
Two independent chambers
Built-in electric pump
Manual pumping available
Holds pressure for 5 days
Handles up to 600 lbs
Auto-deflate option
Cons:
Depressed middle section
Not meant for long term use
Very bouncy
No patch kit
If you have questions left, you can research the Q&A section on Amazon.com.
---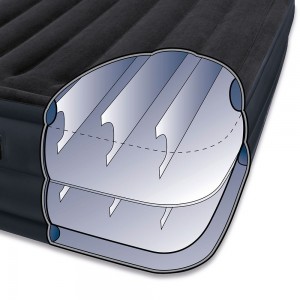 Another Queen-sized air mattress available on Amazon. It is also equipped with a built-in pump, but unlike the previous mattress, it only takes it 5 minutes to inflate fully. However, the pump is rather loud. It is not too much of an issue since it takes so little time to get the job done.
Much like the other mattress, this one can be inflated manually, which is quite handy for places with no electricity or in the case of a pump failure. By the way, about that… The warranty, or rather lack thereof, might be somewhat of an issue, especially combined with the non-zero possibility of poorly glued seams. But don't worry, Amazon is well known for its return policy. Frankly, if it weren't for that, buying this would be a big gamble. I wouldn't even give this the 10th place. However, thanks to Amazon covering the product, it can be a great purchase, and I give it a nine. If believe it is too much of a risk, you can go to Amazon.com right now and read the 5,100+ reviews to make sure that is not the case.
Other than the unpleasant possibilities of getting a defective product, the mattress is a very good one. It's a perfect guest bed. Probably not really comfortable long-term, but it holds up very nicely. The pump leaks very little air, and you don't need to keep it running.
The mattress can be good for about two-three before it develops too many leaks. It is possible, that you would end up using it long term, although air mattresses are supposed to be a temporary arrangement.
Pros: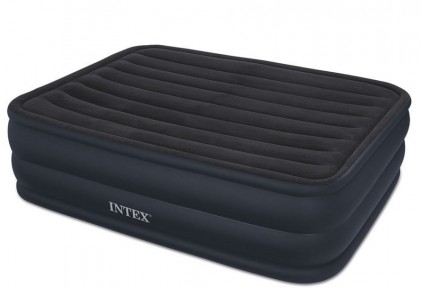 Comes with a carry bag
Built-in electric pump
Manual pumping available
Handles up to 600 lbs
Fit for long term use
Auto-deflate option
Patch kit
Made in the U.S.A.
Cons:
Loud pump
Not negligible leakage rate
No manufacturer warranty
---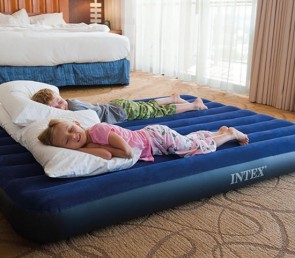 This mattress does not have a built-in pump and neither does it come with an included external pump. But it's very cheap. You may want to get it on Amazon.com right now before the other people do it. Not exactly cushioned, it does have an easy to clean waterproof plush flocking. It is not an indoor mattress, it is made for camping.
You don't have to worry about carrying it around, as it is very light, not even 9 pounds. Good enough to carry it I a backpack.
Alas, as with the other Intex air mattress, there is a slight possibility of getting a defective mattress. This does not mean you're bound to receive a faulty product. It's just that if there will be something wrong with it, it most likely would be a leakage rather than some other problem. Most Intex mattresses I've used were just fine.
Pros: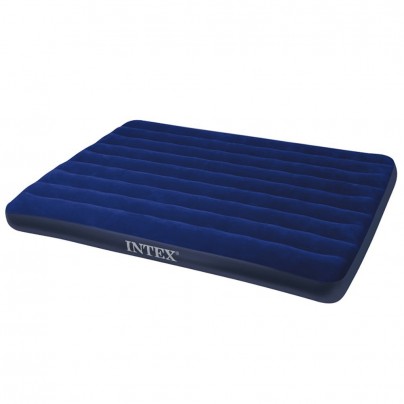 Very low price
Fit for camping
Handles up to 600 lbs
Very lightweight
Plush flocking
Cons:
No pump included
Not negligible leakage rate
---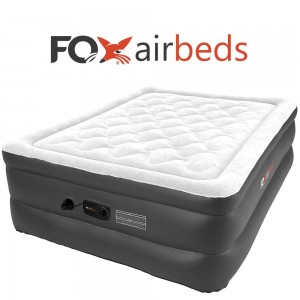 Despite what the name suggests, this mattress comes in somewhat other 4 sizes: Queen, King, California King, and Twin XL.
It's an inflatable mattress all right… But you know what else? The "Plush High Rise" part isn't an empty claim. The top really is cushioned. The main drawback of an air mattress is that they are too cold generally, well, not this one. While it is not quite as warm as most memory foam mattresses, the plush top helps to keep warm. Although if you fill it with cold air, it'll take a lot of time to get warm. You should probably put an extra blanket on top of it.
Of course, it has an electrical pump, and it can both deflate and inflate both automatically and manually. But be advised, the pump would not shut off by itself. It would just keep going on and on. As you can guess, it's not something you want, so keep an eye on it.
It is more of a bed than a mattress, which means it's kind of heavy. This mattress works long term just fine, but if you want to take it somewhere else, get a carry bag. It doesn't mean it comes without one, quite the contrary in fact, but it's not a top quality bag, so you'll probably want to replace it.
Pros:

Plush top
Built-in electric pump
Manual pumping available
Long-term use possible
Auto-deflate option
Patch kit
Durable
Cons:
No auto shut-off
Heavy
Hardly reusable carry bag
If a not-really-reusable bag does not sound all that bad to you, you can check the latest price on Amazon.com!
---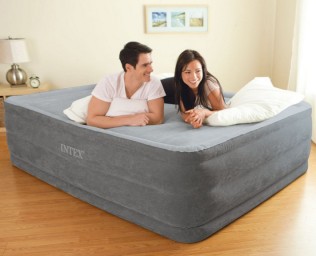 Yet another Intex air mattress, Queen-sized and 22 inches high as well. The built-in pump of this mattress gets its job done in just three and a half minutes. Loud, as you can imagine, but even faster than the other air bed from Intex. And it's a pound lighter.
Despite that, it's very durable. In fact, if you get yourself a topper or a pad (available on Amazon as well), you can even not worry about your dog's puncturing it. Still, I am absolutely not encouraging you to test it that way. Durable it might be, but it's still an inflatable mattress.
It's a very good mattress for long-term. It can be up for almost 12 nights without pumping. And it's plushy.
It would be even better, but it is not impossible to get a mattress with bad seams. Unlike the other mattress with a built-in pump, this one can be returned to the manufacturer within 30 days. Still, it's somewhat of a gamble.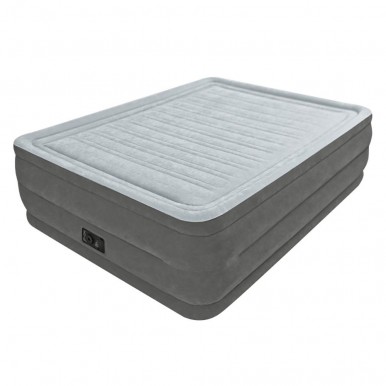 Pros:
Built-in electric pump
Manual pumping available
Long-term use possible
Auto-deflate option
Handles up to 600 lbs
Patch kit
Very durable
Cons:
Loud pump
Not negligible leakage rate
You read the detailed description of the product as well as familiarize yourself with the customers' reviews on Amazon.com.
---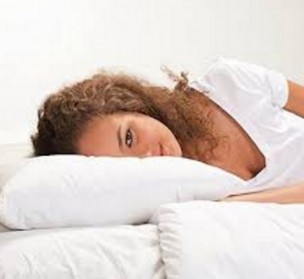 This mattress got not one but two electric pumps. The primary one will inflate and deflate the mattress in mere minutes (about 4, to be precise). The NeverFLAT pump is not nearly as powerful but it doesn't need to be. Its key distinction is that it is whisper quiet. As you can guess, it is used for keeping the mattress inflated just right.
Obviously, this mattress has an auto shut-off option. The firmness is adjustable. Although if you like sleeping very soft, it might be not something you want. You can get that manually, but the NeverFLAT option can only support preinstalled firmness levels. You may find them comfortable, but on the other hand, you might just not.
It is a good guest bed and a decent main bed, but it is not very suitable for camping. Oh, it can be pumped manually, but the thing is, it's pointless to get an air mattress with features you wouldn't be able to use. It's going to be a waste of money if you buy this otherwise good air mattress for camping. But if you plan on buying it for using indoors? Check the 1000+ reviews on Amazon.com and get it for yourself!
Pros:
2 built-in electric pumps
Whisper quiet NeverFLAT mode
Auto shut-off
Manual pumping available
Long-term use possible
Auto-deflate option
Handles up to 600 lbs
Patch kit
Adjustable firmness
Cons:
Not fit for camping
Preinstalled firmness levels only
---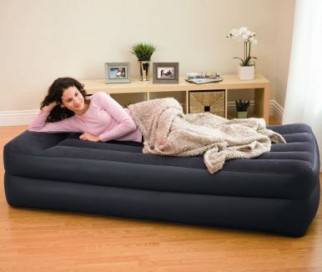 This air bed is not known for being able to handle six hundred pounds. It may be a big mattress but mainly in height, and it only is durable against up to three hundred. But that is to be expected from a Twin-sized air bed. Due to its size, it may also be a bit too wobbly for your liking if you turn over a lot at night.
As with all Intex mattresses so far, this one has a bit of a leakage problem. While most produced mattresses hold up nicely, there are some of them that do not. It is a small amount percent-wise but not negligible.
However, if you ignore that problem and count on Amazon return policy to replace the turned-out-to-be-a-lemon purchase, this is a very good mattress. There is a fairly big list of mattresses I wouldn't recommend to buy because that would be gambling, but this one? This one is different. It may be somewhat of a gamble, but with the "somewhat" part being so pronounced, it's a good kind of gamble. More than thirty-five hundred people already bought it on Amazon.com and left their reviews.
The mattress, for all its qualities, is not expensive. It is not cheap since it has a built-in pump, but it is not expensive, that's for sure. And, although it has not auto shut-off option, it would never burst if you left the pump on. The pump does react to the pressure. Not that it means I recommend pumping the mattress with no supervision. The pump is only meant to fill the mattress (it only takes about 3 minutes) or suck out the air. After that, you're supposed to turn it off manually.
The mattress has a built-in pillow. An upside for many, it may be a downside for some as the mattress has no pillow rest feature. That means, if you have neck problems, look up something else. You cannot avoid filling the pillow.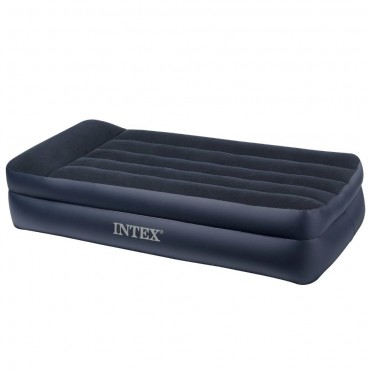 Pros:
Low price
Built-in electric pump
Manual pumping available
Long-term use possible
Auto-deflate option
Patch kit
Built-in pillow
Lightweight
Cons:
Not negligible leakage rate
May be a bit wobbly
No pillow-rest
---
Another NeverFLAT air mattress, but this time it's from Insta-Bed.
Many things that can be said of the other NeverFLAT mattress remain true. Two electric pumps, minutes to deflate and inflate, whisper quiet NeverFLAT pump, auto shut-off, adjustable firmness, preinstalled firmness levels, not ideal for camping. All true. It's due to the NeverFLAT that they are so similar.
But, similar as they may be, they are still two different products.
Insta-Bed Raised Air Mattress comes in four different varieties. First of all, it can be Queen-sized or Twin-sized. There is nothing particularly special about the Twin-size, but Queen-sized mattresses come in three types: Plain, Headboard, Pillow Top Bed. You can buy either of them on Amazon.com and join the three-thousand army of those who got one for themselves.
The Headboard type might seem a little bit useless, but it does give a feeling of a "real bed". Besides, you have to take into account the fact it would not allow your head to just hang from the edge of the mattress if you're prone to adopt such a position while sleeping. I know I am.
The Pillow Top Bed type is a lot warmer than the average air mattress, and that is if we forget about the fact that the NeverFLAT pump warms the air a bit. Softer, too, so if a typical NeverFLAT's softest level isn't soft enough for you, you don't have to worry about that. You can even adjust it to the firmest level, all that would do is give your pillow top better support.
This mattress is durable enough to handle the motion during sex.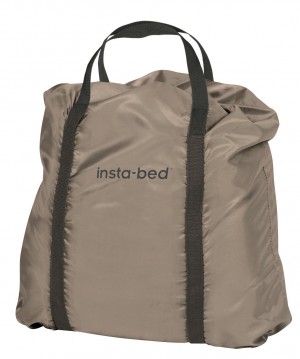 Pros:
Comes with a carry bag
2 built-in electric pumps
Whisper quiet NeverFLAT mode
Auto shut-off
Long-term use possible
Auto-deflate option
Patch kit
Adjustable firmness
Headboard Variety
Pillow Top Bed variety
Fit for sex
Cons:
Not fit for camping
Preinstalled firmness levels only
---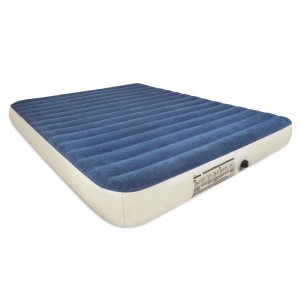 Unlike many of the mattresses I've mentioned above, this one is meant for campers first. It doesn't have a built-in pump. After all, for a camper's mattress that could be a disadvantage rather than a bonus. But it does include an external rechargeable electric pump, one you can charge from a standard 110V outlet or the cigarette lighter in your car. It takes the motor 6 hours to recharge fully.
The pump comes with an extra nozzle adapter for using with different products. It's good for several inflations without the need of recharging. But be advised, it has no safety mechanisms! You don't have to worry about not being able to realize when it is time to switch the motor off, it would be hard not to, but you have to remember you're the one who is responsible for that.
The mattress is somewhat squeaky when you drag it around or move on top of it. If a little noise isn't an issue for you, you don't have to worry about this. But if it is, you may want to get a topper for the mattress. Besides, a topper would make the mattress warmer; as with any air mattress, the temperature can be unsatisfactory.
The mattress is very sturdy and holds air perfectly. It may be used as it is, but I would put some protection between it and the ground. After all, I wouldn't want an unnoticed twig to ruin my bed forever.
Pros: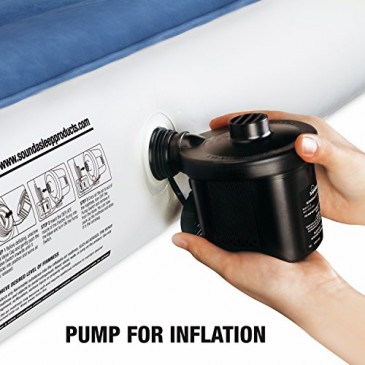 Comes with a carry bag
Includes external rechargeable air pump
Includes extra nozzle adapter
Fast to charge
Auto-deflate option
Fit for camping
Sturdy
Holds air perfectly
Cons:
A bit squeaky
No auto shut-off
If you're a camper and are eager to get yourself the best air mattress for camping, get this one on Amazon.com right now. Or, you can check out my article on air mattresses for campers and pick another one.
---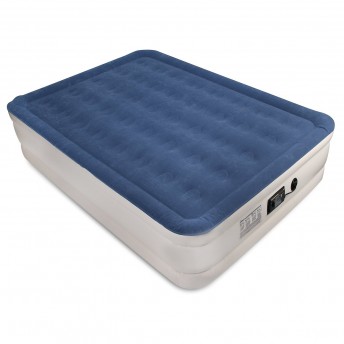 Yet another SoundAsleep air mattress, but this one is a guest bed, rather than a camper's choice. Although it comes in two sizes (Twin and Queen), they are not available on Amazon as one item. To get yourself the Twin Size mattress, check out this link. To get yourself the Queen Size, check this one out.
Other than their size, there is no difference between them. As you can guess, the Queen Size mattress is more comfortable, but it uses up more space as well.
The mattress has a built-in pump, and the bed's cheap, however, the problem is you can only inflate it with the pump. Not something you want for camping, that's for sure, unless you have a generator available or are able to access 110V in some other way. If you are sure about that, you may even use it like that. It's certainly durable enough, and it has a Sure-Grip bottom.
When I say durable, I don't just mean plain durable, I mean puncture-resistant. Too bad it is not portable and cannot be pumped in an alternate way. If it were, I would give it the first place, no doubts about that.
It may survive an encounter with a cat's claws, but I wouldn't bet my money on it if it were a dog's teeth, although I wouldn't say the mattress would be doomed in that case either. Be it as it may, I would keep any animals and pointy things away from an air mattress regardless.
Although the mattress is puncture-resistant, the Twin Size can only handle up to 350 lbs, which is still impressive for a Twin Size mattress but not as impressive as the 600 lbs the Queen Size mattress can boast.
The carry bag can fit not just the mattress but some extras as well, like a pillow and sheets, which is quite handy if you ask me.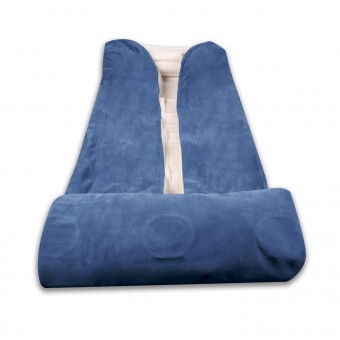 Pros:
Low price
Comes with a large bag
Built-in electric pump
Long term use possible
Handle up to 600 lbs
Auto-deflate option
Puncture-resistant
Patch kit
Cons:
No external pump
110V A/C only
---
Bottom line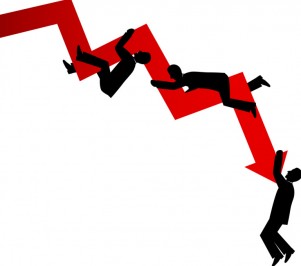 Despite how air mattresses are called "air mattresses" and "air beds" regardless of their design, in my opinion, they can still be divided into these two categories. Let us call them air mattresses proper and air beds.
An air bed is an air mattress meant for indoor use. A good one will have a built-in pump or even several. It is possible that an air bed can be pumped with an external pump, in that case, it can be used for camping to an extent. But they are not meant for it. Instead, they are usually designed with comfort in mind.
An air mattress proper is meant for camping. They by definition cannot be just as comfortable as air beds. An air mattress proper should not have a built-in pump, as it severely undermines its portability. They are supposed to be much more lightweight than airbeds.
If you look through the Top Ten again, you will see, that most air mattresses there are air beds. This is to be expected, since, as I've already said, they are meant for comfort and it's hard for air mattresses proper, even those that have an "air bed" in their name, to compete against air beds in that department. Are they any worse? Certainly not. They are simply used in very specific conditions. If you are a camper and you'd like to choose the best air mattress for campers, you should probably read the article dedicated to them.