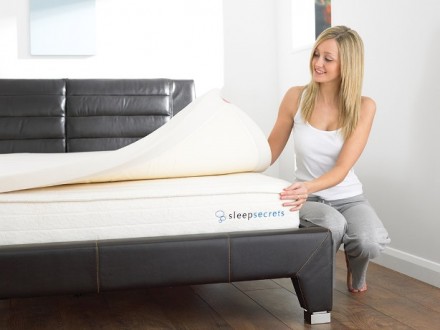 A mattress topper reminds of a mattress in every way, but it is not the same thing. You cannot use it standalone and neither should you. A mattress topper, as its name suggests, is supposed to be put on top of a mattress.
That is not to say they are necessarily cheap, even though generally they are cheaper than mattresses of similar quality. But that's if the quality is similar, however, a topper on the higher end of the scale may very well be more expensive than a budget mattress, even if we're considering foam mattresses.
Why would I want a mattress topper?
You might think that a mattress topper is not something you have to buy. That may be the case for you, and that's if you have a bed that is perfect in every way. That's not unrealistic, after all, a good mattress is all you normally need– You can hear the "but" coming, can you not? You are absolutely correct.
But a mattress, even the best mattress, even the "bestist" mattress as my kids say, would never last forever for all its quality. They are not made eternal and end-of-the-world resistant. If they were, the Space Program would be pocket change compared to even a single mattress like that. An old mattress eventually just isn't as good as it used to be. Even it's the best innerspring mattress you can think of. The way it looks is one thing, that can easily be neglected, but if it's become less comfortable for sleeping, this is another matter entirely. Yet, you don't have to buy a new one just yet, a mattress topper should help you to get more years out of your mattress.
Plus, sometimes spending your money on a trip seems a better choice than getting a $3,000 mattress, so you get yourself a cheaper one and then buy a good topper for it. That works, too. And then there's the fact toppers can be re-purposed.
And now, onto the top 10.
Top 10 of Best Mattress Topper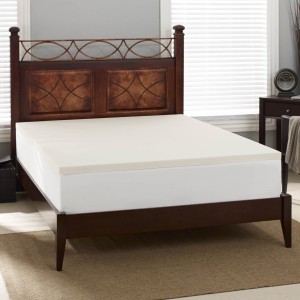 The first topper in the list will be this memory foam topper. I give it the 10th place since, while it is a memory foam topper, it just does not give the same feel as a memory foam mattress. The density is 3 lbs, whereas most mattresses have a higher rate.
But thanks to that, it is a rather soft memory foam topper, even if it's only 2 inches in height. One would expect that such a typical drawback of memory foam mattresses as odor remains, since they are made from the same basic material, and that's not something that can be fixed easily. But while that is a reasonable speculation, the truth is that the odor fades away very fast.
The foam does not retain heat as much as many others, yet it's still very warm at night. Truth to be told, it feels like sleeping on a cloud.
It comes in Twin, Full, Queen, King, and California King sizes. Made in the U.S.A., it also has a 10 years warranty. In my opinion, it is a very good deal. If you think so as well, check it out on Amazon.com.
Pros:
Soft
Does not retain much heat
Warm to sleep
Made in the U.S.A.
Cons:
Thin
Low density
Slight odor
---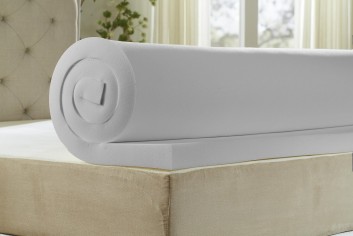 Another memory foam topper, the Cool IQ comes in 4 sizes as well, except that the sizes are Twin, Twin XL, King, and California King. It is a denser topper than the previous one, and, while that one does not smell for long, this one is nearly odorless. It is eco-friendly and has natural charcoal inside to reduce odor and moisture. The package includes a protective cover.
But when I say "nearly odorless" that's exactly what I mean. It does smell like any other memory foam product, it's just that, ideally, the smell disappears almost instantly. If it doesn't, there's something wrong with your topper.
This topper is firm, but since it is memory foam, it conforms to your body, providing all the support you need. By the way, the density rate is 4.5 inches. There are actual mattresses with lower memory foam density. If you want to get this topper, look up its current status on Amazon.com.
Be advised, though, that while the two 2.5 inches may be a good thing for support, they do add up to the height of your bed. This may be somewhat of a disadvantage for some of you. But if not, do consider buying it. It's a good deal.
Pros:
Eco-friendly
Near odorless
High-density
Thick
Cons:
Adds up to bed's height
Might grow softer with time
---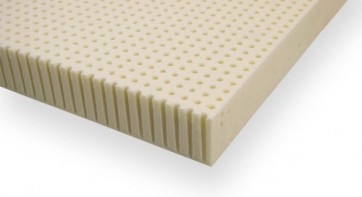 This is not a memory foam topper. Instead, it is a latex one. It comes in seven sizes: Short Queen, Twin, Twin XL, Full, Queen, King, and California King.
Latex is one of the most durable elastic materials. No amount of realistic pressure (from the physical point of view, punctures and cuts, after all, are made by pressure) will deform this mattress topper. You have to be careful with foam, careful with inner springs, and extra-careful with air mattresses, but with latex? You don't! Whatever you do, there will be no sagging, no lumps, nothing. There won't be any problems with that unless you forget about what you've put the topper on. While it in itself is resilient, the support might just as well be not. If the mattress caves in considerably, the topper will not save the situation. It'll just bend to conform to the surface.
While it is durable, it still can suffer damage. Friction will wear it out eventually. The cover of bamboo fabric is resilient in itself, but not as much as the latex.
Unlike the foam types, this mattress does not smell at all. It is made of natural latex and bamboo and the price is high accordingly. You can get it on Amazon.com right now.
However, be advised that some of you would find the mattress a bit too firm. It is not firm per se, but it cannot be compared to the adaptive firmness of memory foam or easily giving in air mattresses.
Pros:
Durable
Portable
Good for allergy sufferers
Made in the U.S.A.
Cons:
A little firm
Price
Not good with fixing the mattress's sagging
---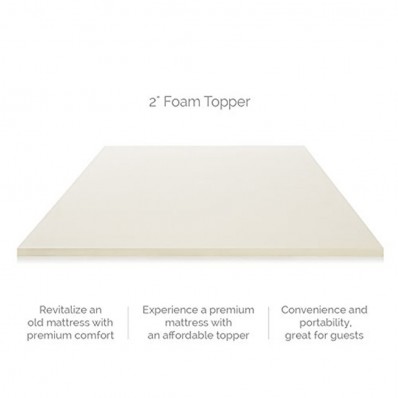 A foam mattress topper. Not a memory foam topper. Comes in seven sizes: Twin, Twin XL, Full, Full XL, Queen, King, and California King.
Unlike the previous latex topper, this one is much less expensive. But, just like that one, it is hypoallergenic despite being a foam topper. That means, if you suffer from an allergic condition but would prefer something less expensive than the "Ultimate Dreams Latex Topper," you can get this one on Amazon.com instead.
This 2 inches mattress topper is great for camping. Not only can it give some comfort at indoors, it can also help you to get a much better sleeping experience outdoors if you put it on your air mattress or into your sleep bag.
It doesn't conform to your body the same way a memory foam topper would, but it is foam, and it does give in when you lie on top of it, just not in the same way you'd expect from a memory foam.
Still, if the need comes, it can even be put on the floor. It's not going to be anywhere near as comfortable as an air mattress, but still a lot better than a blanket.
What I wouldn't exactly recommend is getting it for your main bed. It's great for traveling or sleepovers, but not as a permanent solution. It's made of basic foam. You might even hate it if you got it for your main bed.
Pros: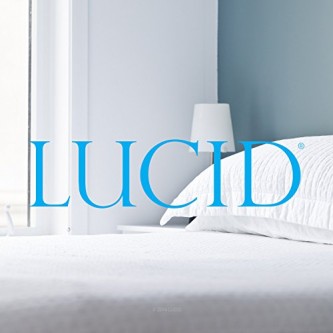 Low price
Good for allergy sufferers
Great for camping and sleepovers
Cons:
Not a memory foam topper
Not ideal as a permanent sleeping choice
If what you're looking for is a cheap mattress topper you can take with you wherever you go, get this one on Amazon.com.
---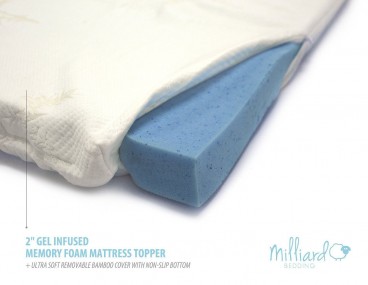 Now this one is real memory foam. Comes in four sizes: Twin, Full, Queen and King. You don't have to fear any leaks, as there is no actual gel or other fluids inside, it is just that the memory foam is infused with it. That makes the topper cooler than it would have been. And when I say "cooler," I do mean both possible interpretations.
That said, it still is possible for you to feel hot sleeping on it, but if that happens, any memory foam mattress or topper would work so-so for you.
The real drawback is that the density rate is just 2 lbs. That is not much. It is a very soft topper, one that barely has enough memory foam to be considered one. However, if you do prefer sleeping soft, this will be a great purchase for you, but in that case, you should take the cover off, as it makes the topper firmer.
Pros:
Gel infused
Cool sleeping
Removable bamboo cover
Rubber bottom
Cons:
Low density
Bottom slips on some surfaces
If you like the way it sounds, you can get the topper on Amazon.com right now.
---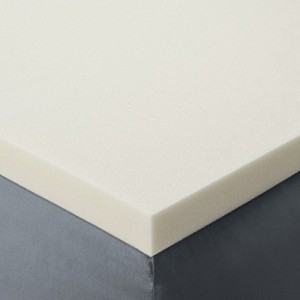 Yet again a memory foam topper. But with them being so good (and popular, if I do say so myself), that is to be expected. The topper is certified and eco-friendly. It is made of CoolFlow memory foam that prevents you from experiencing uncomfortable heat when sleeping at night.
The density rate is 2.5 inches. Not too much, but the topper is still rather comfy if you prefer a softer bed. By the way, if you worry about whether your sheets would fit your mattress with the topper on it, don't. The topper is 1 inch shorter on all sides to make sure you'll have no problems with putting the sheets on.
A known problem with this topper is the possibility of tiny bits of foam all over the topper. They may be rather hard to remove. If you order it on Amazon, and that happens to you as well, don't worry, you can always return it–after all, Amazon is well known for their return policy. But if it doesn't, you get to enjoy your once again comfy soft bed.
Pros:
Low Price
Made in the USA
Eco-friendly
Cool sleeping
Smaller to fit sheets
Cons:
Low density
Bits of foam all over the topper possible
Can be too soft
---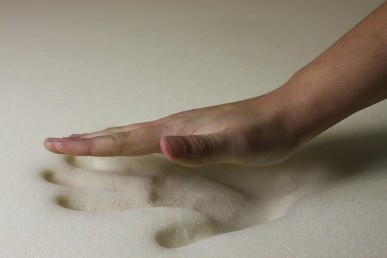 This topper is very similar to the previous one, but different still. First of all, it is 3 inches thick and the density rate is 4 lbs. Now that is what I call a difference.
In every other way, it is exactly like the other Visco topper. It is certified, it is eco-friendly, and sleeping on it is not overbearingly hot. The most important distinction from the other one is not even its thickness but the density rate.
Density rate is what matters most when it comes to memory foam. Dense memory foam is less flammable since there is only so much air available. Dense foam provides a better support. Dense foam reacts better to body heat and, despite being firmer gives in more. All true in this case.
While it is a denser and heavier foam, it still can easily be moved by a single person.
Unfortunately, this memory foam topper is prone to developing cracks, since it has no protective cover. It does not mean it will develop them, but it is a possibility. Because of this, I can only recommend using it for camping and accommodating guests unless you're willing to buy a cover as well. Just to make sure, there may be no cracks at all, like, ever, but the possibility is there.
As long as the topper is not defective, it is a very good topper, good enough to take the fourth place. But I highly recommend reading customer reviews on Amazon.com before you make the decision.
Pros:
Low price
Made in the USA
Eco-friendly
Cool sleeping
Cons:
No protective cover
Prone to developing cracks
---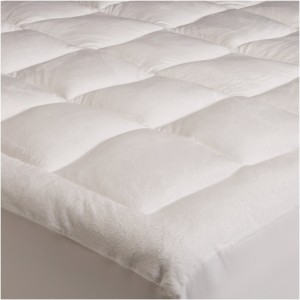 This one is not memory foam, it isn't even basic foam or latex. It's micro plush. The topper comes in 6 sizes: Twin, Twin XL, Full, Queen, King, and California King.
It cannot offer the same level of support as a memory foam topper but it's fantastic to the touch. Besides, it's not supposed to give that kind of support anyway, since not everyone needs the support memory foam offers. As well as not everyone likes pillow tops. This topper is soft, but you would not sink into it, it's not thick enough for that. It is not likely to cause back problems, even though it would not help with those either. If you know you have back problems, I'd recommend getting a memory foam topper instead. Besides, a memory foam one would fill the sags in an old mattress, this topper is no designed to. It's only good with a good mattress. But when the mattress is good, it's luxurious. There are 4,500 reviews on Amazon.com–and counting. Check them out!
The topper is perfect in every way imaginable except one: it is very difficult to wash it. It really is. First of all, it's hard to put it into a washing machine. Second, a dryer can easily destroy it. And I don't mean an idle possibility, if you put it there, it is very likely to happen. It's better to let it dry naturally, not that is an issue for many. After all, you don't have to wash it too often.
Pros:
Very low price
Soft
Luxurious to the touch
Doubles as mattress protector
Cons:
Difficult to wash
Easily damaged by dryers
---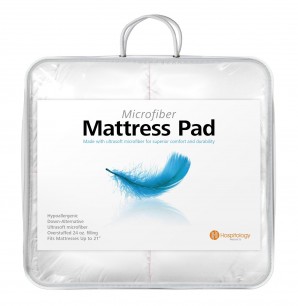 Comes in 6 sizes: Twin, Full, Queen, California King, Twin XL, and Full Extra-Long. Once again, a topper different from memory foam. The topper is hypoallergenic and, the thanks to the sophisticated filling, very compact when packed. However, that does not mean that it's compact enough for a home washing machine. The topper can be washed, but make sure the machine you use is big enough.
This is a pillow top. That means it is very soft and very thick. It can be a bit hot, but if you suffer from cold, this is just the thing for you.
It does not look much, however. Feels luxurious and soft and warm, but the way it looks is mediocre. Not an issue if we're talking about comfort, but not the best choice when you want something presentable.
However, as long as all you're looking for is the comfort, I recommend buying it. In fact, you can do it right now on Amazon.com.
Pros:
Low price
Ultra-compact when packed
Good for allergy sufferers
Ultra soft
Thick
Cons:
Too large for some washing machines
Can make sleeping hot
---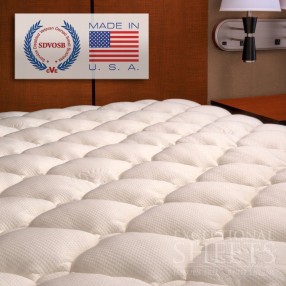 This is the best mattress topper in my opinion. This product is made of plush and comes in 8 sizes: Twin, Full, Queen, King, California King, Full XL, Olympic Queen, and Twin XL. Quite a variety.
The silky bamboo fabric cover is going to be great for people who tend to sleep hot, as it helps to regulate temperature. Not quite as cool to the touch as actual silk, it is a great choice nonetheless. And it's easier to clean as well. Check out the 2,500+ reviews on this product on Amazon.com.
The topper is only an inch thick, and it may be not the most optimal choice for side sleepers.
Pros:
Low price
Made in the U.S.A.
Good for allergy sufferers
Silky bamboo fabric cover
Cons:
---
Bottom line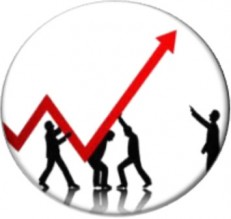 Many good mattress toppers are memory foam ones. That is only natural since they conform to one's body so much. That is their main feature, after all. But while that is true, not every good mattress topper is made of that material. Latex, plush and microfiber work too.
It all depends on what kind of bed you want. If you have back problems and want support, you definitely want a memory foam topper. But if your back is okay, and you prefer coziness, then you have to look into plush and fiber. They'll keep you warm and they are good to the touch.
If you want a bit of firmness and durability and don't really mind the lack of support, get yourself a latex mattress topper. These, in fact, feel quite luxurious, although not quite as soft and warm as plushy cushioned toppers.
Before this article is concluded, there's one more thing I should bring up. Re-usability.
Re-purposing mattress toppers
Sometimes, you don't need help choosing a new mattress or a topper. Sometimes, you have already made up your mind. But even if you have, there's still a problem you need to solve. What to do with an old mattress? What to do with an old mattress topper?
The answer to that question is relatively simple. Just repurpose them. How to do that? Well, that depends on what kind of mattress you intend to repurpose and the fact if it is a mattress of a topper.
Most of the time, you can repurpose any mattress as a mattress for your pet. A crib mattress could work as it is, something bigger would need to be cut.  Of course, the latter does not apply to innerspring mattresses.
Foam toppers, in addition to everything said above, are a good replacement to damping foam. You want to soundproof your computer? You got it (just make sure it's not overheated, foam retains heat rather well). Want to line the inside wall of your subwoofer? Congratulations, you've just saved a whole lot of money.
Be frugal. A mattress, a topper, even sheets are all a good source of perfectly reusable materials. Use them and then reuse them. That'll help you.