The thing both Sealy and Simmons share is their age. Sealy is more than a hundred and thirty years old. Simmons dates back to 1870-s, thus being some 140 years old. The difference between these two brands' ages is negligent. The difference between the other factors…  Not so much. Let's do this Sealy vs. Simmons match.
I've already compared each of these brands to Serta. It's finally the time to pit them again each other.
Of course, each of the brands has something to their credit. Most of the time that "something" might coincide. For instance, the little fact both Sealy and Simmons each have unique technologies of their own. They also are known for making very good mattresses in general.
However, Simmons, unlike Sealy, comes in two product lines: BeautyRest and BeautySleep. They are quite pronounced, almost to the point they should be recognized as separate brands in their own right. Still, for the sake of convenience, that's not what we'll do.
Anyway, time to do the comparison proper!
| | | |
| --- | --- | --- |
|   | Sealy | Simmons |
| Unique technologies | OptiCool®, OptiSense®, OptiCore™, SolidEdge™, ActiveFlex™ | BeautyEdge®, AirCool® Foam, Beautyrest® Pocketed Coil® Technology |
| Mostly Produces | Latex, Memory Foam, Innerspring | Innerspring, Hybrid Memory Foam/Innerspring |
| Price | High | From low to high |
| Edge support system | Yes | Yes |
| Warranty | 10 years | 10 years |
| Extras | Titanium alloy for coils | 18 out of 20 top hotels have Simmons mattresses |
| Top Product | Sealy Posturepedic Cushion Firm QN Mat | Simmons Beautyrest Black Alexia Extra Firm Full Mattress |

Let's do Sealy first, you know, alphabetical order and all. They have quite a number of technologies to their name. Most prominent belong to the Opti series, namely, OptiCool®, OptiSense®, and OptiCore™, although they are certainly not the only ones. SolidEdge™ and ActiveFlex™ are also often utilized by Sealy.
That might be impressive, but the real question is, what do those technologies do?
A lot, truth to be told. The Opti technologies do not belong to Sealy themselves, rather, they are the affiliated companies' property, however, they are fully capable of being perfect mattress materials. The OptiCool® and OptiSense® are not all that different form each other. Both are kind of memory foam. Both are gel-infused. However, each one has its own purpose. The OptiCool® foam mainly has the coolant effect. While the OptiSense® foam has the same effect, its main purpose is the support. Not to worry, though, they are often used simultaneously in Sealy products and their respective weaknesses are effectively neutralized by combining them. Of course, the OptiCore™ is also used along with those two brands of foam. Its purpose is providing basic support for the whole bed.
As for the ActiveFlex™ and SolidEdge™, their purpose is quite different. The former is meant to absorb shocks, thus relieving the stress on the other parts of the mattress. The latter is designed to prevent edge collapsing.
Combined, all these technologies make the sleeper's experience very comfortable and healthy.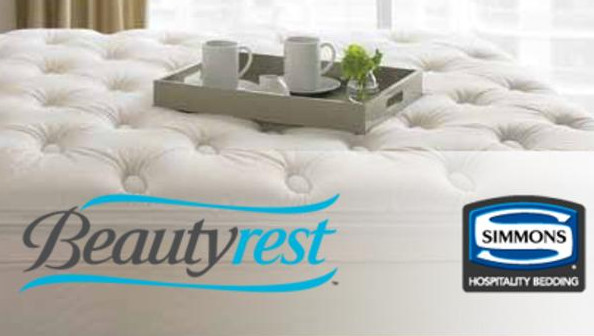 But Simmons can boast some technologies of their own: AirCool® Foam, BeautyEdge®, and Beautyrest® Pocketed Coil® are among the most prominent, but they also use many others.
As for the already mentioned ones, let's find out what exactly they do.
The AirCool Foam is one of the types of coolant memory foam used by Simmons. Other than drawing the heat away, this foam is also ventilated. The BeautyEdge, naturally, is used to reinforce the edges, thus providing perfect edge support. The Beautyrest® Pocketed Coils®, in its own turn, is Simmons's own brand of pocketed coils system for weight distribution and back support.
The second most important thing about any brand is the product variety. Sealy generally produces mainstream products: typical memory foam mattress, innerspring mattresses and latex mattresses. Simmons is neither the opposite nor quite the same. They typically make plain innerspring mattresses and hybrid memory foam and innerspring mattresses.
Sealy mattresses are usually rather costly, but that's sometimes more or less individual for each mattress. The same can be said about Simmons, except that the price variety is far more pronounced. Both BeautyRest and BeautySleep produce mattresses of all price ranges, and to get a relatively cheap mattress from Simmons is just as easy as to find an expensive one.
Both of the brands are known for paying attention to the edge support. They both have technologies to counter the typical edge collapse, which, in its turn, can lead to sagging, and isn't very comfortable either way.
Not many other manufactures reinforce the edges of the innerspring mattresses they produce, even though that's a typical problem. Edges that are not reinforced might be an inconvenience rather than a major problem, but an inconvenience dealt with is still different from one left unattended. Thankfully, both two brands acknowledge the problem By the way, yet another mattress brand that does so is Serta.
Both brands offer a warranty limited to 10 years. They are equal like that. Their own age, the fact they both pay attention to edge support and now the warranty term.
But that is not all, of course. Perhaps, you already know that Sealy makes their innerspring mattresses with titanium alloy coils. If not, do consider this for a moment. Most of the time, mattress coils are made of carbon steel or some other alloys, ones that have no titanium. Naturally, the coils made of titanium are far more durable than any other.

Simmons, however, has achievements of its own. They are quite popular in the world. Eighteen out of twenty top hotels use Simmons mattresses.
I believe, that's all I need to mention about either brand. If you would like to find out more, feel free to follow this link to learn more about Sealy or this one to learn more about Simmons.
Of course, the final choice is up to you. I can only hope this post was helpful for you. But whatever brand you choose, keep in mind they both are well-known for their perfect mattresses.