Sometimes, the thing that matters most is the materials the mattress has been constructed with. This where latex, innerspring and memory foam mattresses come into the picture. Sometimes, we make classification of mattresses based on their principles of work or usage. That's how futons and air mattresses are defined. Sometimes, the size is what we pay attention to. And sometimes, it's all about the finishing. I already made a review on pillow top mattresses. Today, it's time for the review on another kind of mattress. Time to get the best plush mattress.
Main features of plush
As far as firmness levels go, plush is between firm and pillow top. Not quite firm but not the softest choice either. As for the typical structure, it's usually padded. The pillow top is just that. It is rather visible and distinctive. A firm mattress, on the contrary, has no distinctive features. Padding is a telltale sign for a plush mattress.
However, one should realize that a pillow top mattress can be plush as well.
For whom is plush good?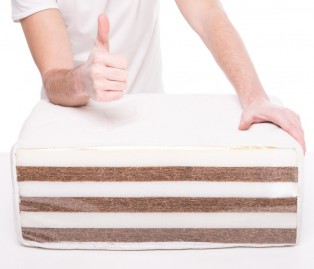 While plush can be defined as the medium firm level, it is not necessarily like that. All things considered, it is certainly firmer than pillow top and softer than a mattress without padding. But when other things come into the picture, this "natural" order of things might not be just as prevalent. But what things?
Well, a different mattress brand, for instance. They all do things in different manners, and, as expected, the eventual result can be very different. The mattresses made by a certain brand can be softer in general than the mattresses made by another. Even if those mattresses do come without padding or pillow top.
That aside, plush mattresses would be a good purchase for those who don't really need a very firm sleeping surface and, at the same time, a very soft pillow top surface wouldn't be as good for them.
If you suffer from back pain but a softer mattress doesn't really aggravate it, a plush mattress can make a good buy.
Top 3 of Best Plush Mattresses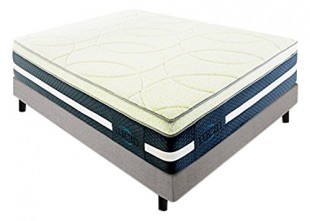 Let us open the list with this hybrid mattress. Its status as a hybrid is irrelevant for our current situation but it is still important to describe it properly. However, hybrid or not, there are many plush mattresses. So why this one? Well, first of all, this mattress, while plush, isn't also pillow top. I already have a review on those ones and I'm not going to repeat myself. Those mattresses may be soft, but the pillow top is a different kind of mattress.
This Lucid mattress is precisely sixteen inches in height. That's a lot, although it doesn't necessarily make it more comfortable than any thinner mattress.
The uppermost layer made of memory foam is capable of absorbing unpleasant odors and keeping your body cool during sleep. It is infused with bamboo charcoal for that very purpose. Thanks to that, it is also different in color, naturally possessing a stylish shade of black rather than being plain white (or similar foam colors). The layer beneath is also made of memory foam, although a plainer brand. But of course, being a hybrid mattress, the Lucid mattress is not limited to memory foam alone. It also has the core layer made of basic foam as well as the transitional latex layer.
The mattress is rather heavy because of its composition. Sixteen inches in total means it should only be expected. Anyway, the mattress isn't so easy to move around.
The mattress is undoubtedly plush. However, its softness heavily depends on the temperature. Since the top layers both comprise memory foam, they are the softer the warmer they are and the more pressure is applied. It is also the case with any memory foam mattresses, however, this one is somewhat peculiar. You probably wouldn't want to get a thick mattress topper for it, since it might interfere with the memory foam's performance.
If that is okay with you, I recommend you purchasing this mattress on Amazon.com.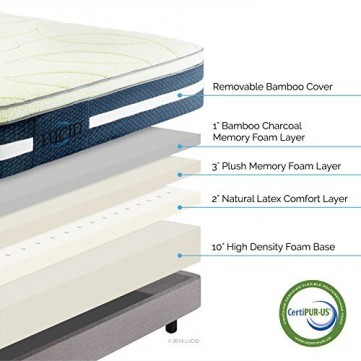 Pros:

CertiPUR-US certified
Made in the U.S.A.
Hypoallergenic
Charcoal infused top layer
Memory foam/latex hybrid
16 inches thick
Cons:
Very heavy
Might fail to react to your body heat
---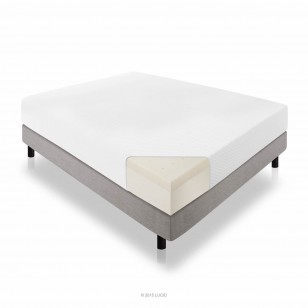 A Lucid mattress as well. However, much unlike the one that has taken the third place, this one is not quite as thick. It's much more lightweight than the 16-inch mattress but that is not its main advantage. It's a memory foam mattress constructed with the open-cell technology for extra durability and comfort.
As far as the firmness levels are considered, this mattress is a perfect average medium mattress. Some might find it too firm because of that, but that is mostly due to the fact they expected something like a pillow top.
Much like any memory foam, the one this mattress comprises is capable of conforming to your body's outlines. It also eliminates unwanted motion transfer, preventing the partners from disturbing each other's sleep. The plush memory foam is, well, plush as well, and it is not hot to sleep on at all, thanks to the ventilation system optimizing air flow.
The mattress, of course, meets all safety requirements. You can purchase it on Amazon.com right now.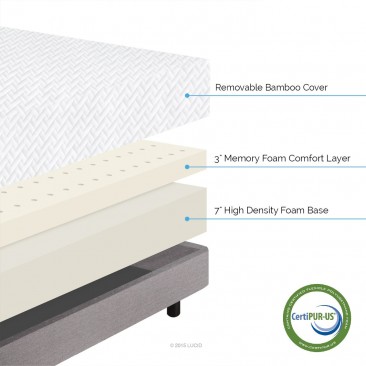 Pros:
CertiPUR-US certified
Made in the U.S.A.
Open-cell technology
Plush memory foam
Motion transfer elimination
Cons:
Doesn't give much
Might not last much longer after the warranty expires
---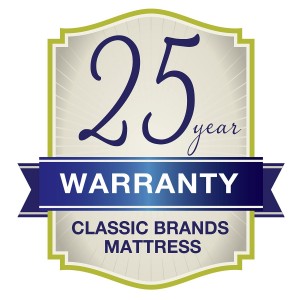 And today's winner is Classic Brands! Curiously, this is yet another memory foam mattress. Unlike the one above, the Eloquence mattress has an ultra-plush feel to it, meaning it's very soft. Very close to pillow top.
Much like the previous mattress, the Eloquence is ventilated in order to keep the temperature tolerable during your sleep. In addition, it's gel-infused. Not only that, it also comes with the orthopedic support layer.
All in all, it is a very cool mattress to sleep on and it cradles the body just like most memory foam mattresses. The typical disadvantages of memory foam are effectively neutralized, except for smell which isn't all that strong in its turn.
The two gel-infused pillows of memory foam that come with the mattress would make a nice supplement, as well as the breathable waterfall edge knit cover of cotton.
The mattress comprises 4 layers in total: the uppermost layer of ventilated cool gel foam for pressure relief, a layer of memory foam, a layer of comfort foam and the core layer of high-density base foam. This composition allows motion transfer reduction.
If you need a relatively soft plush mattress, please follow this link to make your order on Amazon.com.
Pros: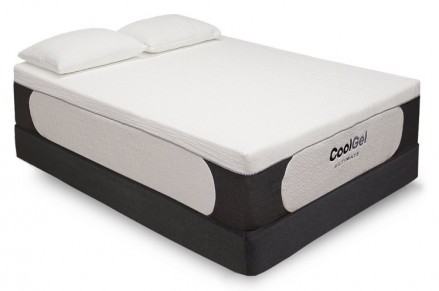 CertiPUR-US certified
Plush memory foam
Antimicrobial
Mite-proof
Motion transfer reduction
Cons:
---
Bottom line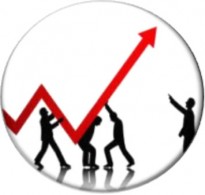 As you can see, every mattress presented here is memory foam. However, this is a pure happenstance. Plush mattresses are not limited to memory foam exclusively.
But the stubborn fact stands. It just so happens that all three mattresses are comprised of memory foam. And they are very good mattresses at that.
But in the end, the choice is yours.